Exclusive
A Mother's Desperate Plea: Teresa Giudice Begs Judge To Lock Her Up In Connecticut Near Daughters, After Hiring New Lawyer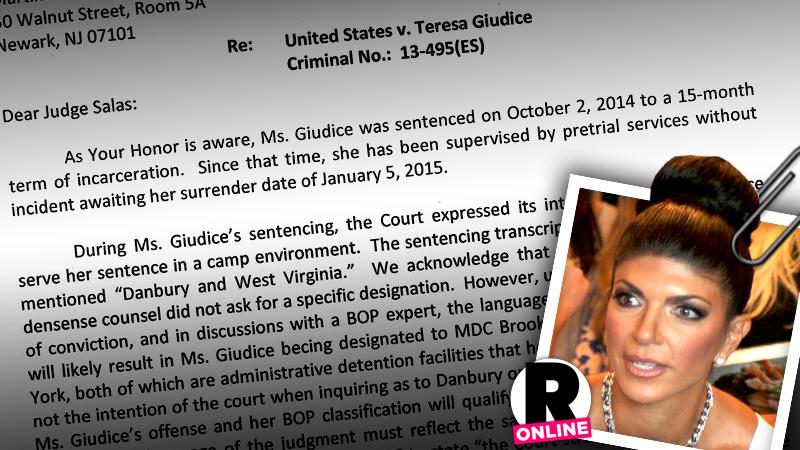 Desperate Teresa Giudice has hired a new attorney in the aftermath of her fraud sentencing earlier this month. And as her first order of business, RadarOnline.com has learned, the attorney, Stacy Ann Biancamano, has submitted a letter to Judge Ester Salas, asking that the reality starlet be sent to serve her prison sentence at Danbury Federal Prison in Connecticut, to enable her to visit with her four children.
Article continues below advertisement
​
In the letter obtained by Radar, Biancamano states, "During Ms. Giudice's sentencing, the Court expressed its intent to have Ms. Giudice serve her sentence in a camp environment. The sentencing transcripts reflect that Your Honor mentioned 'Danbury and West Virginia.' We acknowledge that at the time of sentencing, defense counsel did not ask for a specific designation."
"However, upon review of the judgment of conviction, and in discussions with a Bureau of Prisons expert, the language of the judgment as written will likely result in Ms. Giudice being designated to Metropolitan Detention Facility Brooklyn, or Metropolitan Correctional Facility Manhattan...both of which are administrative facilities that house females," the letter continues. "This was clearly not the intention of the court when inquiring as to Danbury or West Virginia as a designation."
"Ms. Giudice's offense and her Bureau of Prison classification will qualify her to be designated to a camp, however, the language of the judgment must reflect the same. At this time we respectfully request the Court to amend Ms. Giduice's JOC to state 'the Court strongly recommends a non-administrative facility placement, specifically, the FCI Danbury Satellite Camp to facilitate visitation with her young children; or if Danbury is full, we would ask for an alternative camp, specifically Alderson in West Virginia, for Ms. Giudice to serve her sentence.'"
Article continues below advertisement
The judge will have no role in determining where Giudice will serve her 15 month sentence, however.
This plea came on the heels of scrambling by Giudice to file an appeal — a move she ultimately decided against. According to the source, "Teresa decided not to appeal the sentence because it would have been immediately denied."
It's unlikely Giudice will end up at Danbury because it's transitioning to only housing male inmates.
Giudice must surrender to begin serving her term no later than January 5.