Teresa Aprea, Bombarded With Twitter Hate, Admits Teresa Giudice 'Karma' Comments Were 'A Little Harsh'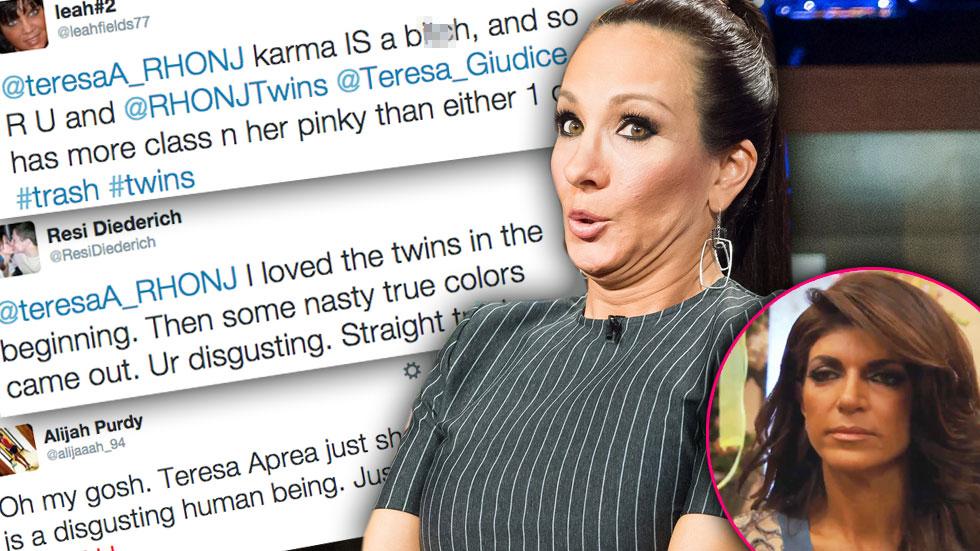 The Twitter hate for Teresa Aprea careened in following her antagonistic comments about jail-bound Teresa Giudice on Sunday's broadcast of the Real Housewives of New Jersey, prompting Aprea to declare that she and Giudice are in a better place since the time in which the finale was filmed.
As RadarOnline.com previously reported, Aprea — venting about a lingering rumor Giudice allegedly spread, that her husband Rino bedded her mother Santa — used Giudice's fraud conviction against her in a testy testimonial.
Article continues below advertisement
Aprea boasted that Giudice's family had been "destroyed" as result of her bad karma after she "sh*t all over Aprea's family" by spreading the salacious rumor.
"Karma's a bitch, clink, clink," Aprea said, pantomiming her wrists together to mimic being handcuffed.
Watch the video on RadarOnline.com
But after weeks of horrible news for the Giuidce family — specifically Teresa's upcoming 15-month prison sentence, to be followed by husband Joe's 41-month sentence and likely deportation — the public didn't take kindly of seeing someone repeatedly kicked while they're down.
Among the dozens of jabs aimed at Aprea: Twitter user @ResiDiederich called her "disgusting" and "straight trash;" another, @alijaaah_94, said that Aprea "showed she is a disgusting human being;" and @leahfields77 wrote that Giudice has "more class in her pinky than either" Aprea or her twin, Nicole Napolitano.
That's why it came as no surprise when a kinder, gentler Aprea emerged (alongside her sister Nicole Napolitano) on Sunday's Watch What Happens Live, singing a different tune about her embattled castmate.
Article continues below advertisement
"I must say, we're OK right now and we're in a good place, I did apologize," Aprea told Andy Cohen, adding that while her comments "came from a place of anger," they were justified in her mind based on the sensitive nature of the rumors about her mother and husband.
"Like we know, the tongue can help or it can destroy," Aprea said. "It was mean, it was a little harsh, but I did apologize and I did address the situation."
Watch the video on RadarOnline.com
Part one of the Real Housewives of New Jersey reunion special Sunday at 8/7c on Bravo.