'Teen Mom 2' Star Leah Calvert Breaks Down Over Custody Fight With Corey Simms: 'I've Done The Best That I Could As A Mom!'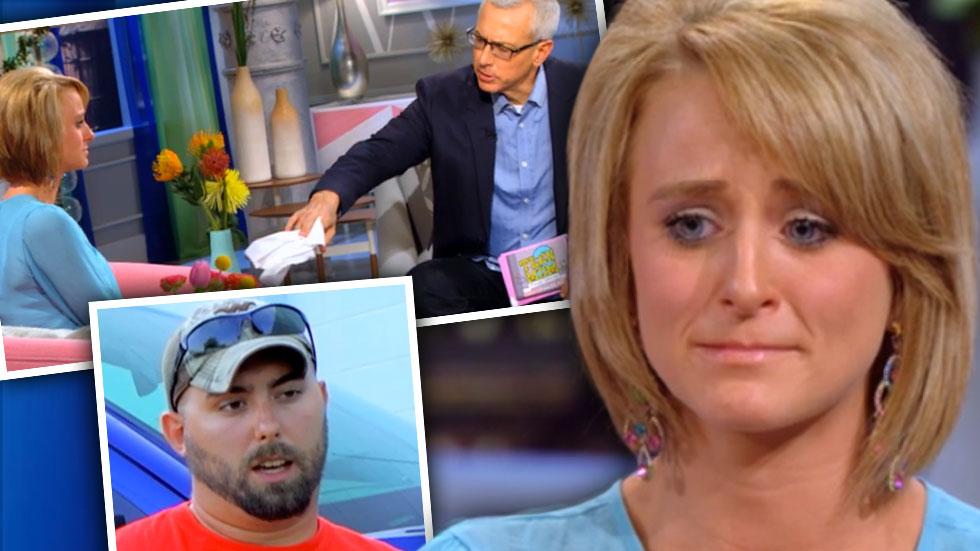 Nearly five years after Teen Mom 2 star Leah Messer gave birth to her twin daughters, Aliannah and Aleeah, she's still battling her baby daddy Corey Simms for custody of the girls. Messer, currently married to her new husband Jeremy Calvert, didn't want give up her rights to her ex, but Simms claimed that Messer wasn't a good mother — and in a new preview clip, she reaches her breaking point.
A preview for the upcoming Teen Mom 2 reunion shows Messer talking to Dr. Drew Pinsky about the custody battle and the emotional effects of Simms' hurtful accusations.
Article continues below advertisement
"Talk to me about the custody pursuit," Dr. Drew said to Messer. "I'm just confused. I don't understand why they suddenly went for custody. That seems like such a jump. Did they have concerns about you as a mom?
Messer replied, "In court, they said I was an incompetent mother."
Dr. Drew then wanted to know why Simms had said that.
"Aly had… she had missed a little bit of therapy and school," Messer explained. "And the reason was because if my baby comes to me and she's like, 'Mommy, I'm hurting,' I'm not supposed to force her because it could over-exert her. Or with therapy, she was sick. Stuff like that. It was reasonable excuses. Well, I guess somehow that makes me an incompetent mother."
Dr. Drew was confused as to why Simms used that excuse, when the father had refused to follow up and make sure that his insurance company was providing Aliannah with a much-needed wheelchair.
"It's so weird that they freaked about physical therapy which is sort of an adjunctive therapy," he told Leah. "It might be useful but it's not really proven to be useful while the wheelchair is the treatment. That seems very strange to me."
Article continues below advertisement
"It was hard for me because I felt like I've done the best that I could as a mom," Messer said.
Dr. Drew then hinted that Messer's rumored drug abuse might have been part of the reason that Simms stepped up and asked for custody.
"Did something else get on their radar?" he asked. "In that little piece we saw you were kind of falling asleep from some medication. Was that part of the deal?"
But Messer said that had nothing to do with Simms' attack.
"No," she said. "I was like on that medication for like a week. And actually Corey didn't even know that I was on it."
It wasn't part of the court case at all, Messer maintained.
"I mean that was scary for me," she concluded.