Bitter Feud: Taylor Swift Issues Ultimatum Over Katy Perry's Superbowl Performance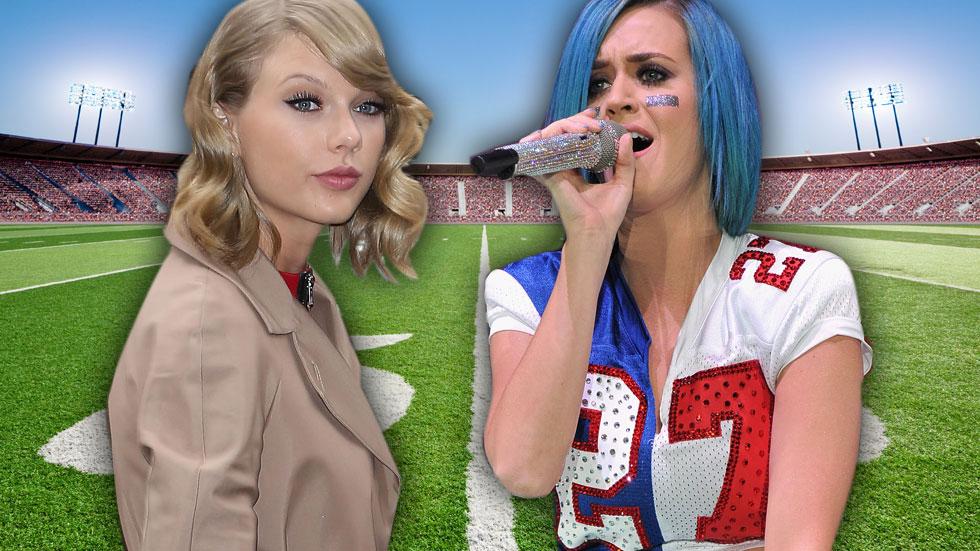 There's a storm brewing between Katy Perry and Taylor Swift — and one of their colleagues is caught smack dab in the middle.
An entertainment insider tells RadarOnline.com exclusively that both singers have been using the same concert tour director and production designer, Baz Halpin, for years.
"Baz did Taylor's most recent RED tour and the Speak Now tour, and he did California Dreamz and the current Prism tour for Katy," notes the source.
Article continues below advertisement
And now that Perry, who will celebrate her 30th birthday on October 25, has scored the high-profile Super Bowl XLVIV Halftime Show, she's asked Halpin to design it. "He's working out the money details right now, but it's obviously a huge career highlight for him and he wouldn't pass up the chance to do it," says the insider.
That dedication to Perry isn't exactly sitting well with 24-year-old Taylor. "She got word of Baz agreeing to do the show for Katy and Taylor's flat out said she will not hire him ever again for any performance or tour if he goes ahead with his decision."
The insider says that Halpin would "be nuts not do the gig" and there's no way he'll pass it up.
As for Perry's thoughts on the subject? "Katy got word of Taylor's 'ultimatum' and found it quite amusing."
As RadarOnline.com reported, the latest sniping session between the two pop princesses is just the latest in a series of incidents.
Swift recently confessed in an interview that her song, "Bad Blood," off he new album 1989 is all about her "straight-up enemy" in the music industry.
After the revelation, Perry immediately took to twitter with a cryptic message. "Watch out for the Regina George in sheep's clothing," she wrote, a clear reference to Rachel McAdams' Mean Girls two-faced character.
Is Taylor right to demand such loyalty from her favorite production designer, or should she just shake it off and move on?