Exclusive
Bloody Aftermath Of Palin Family Brawl Exposed In Shocking New Police Photos — See The Disturbing Pics!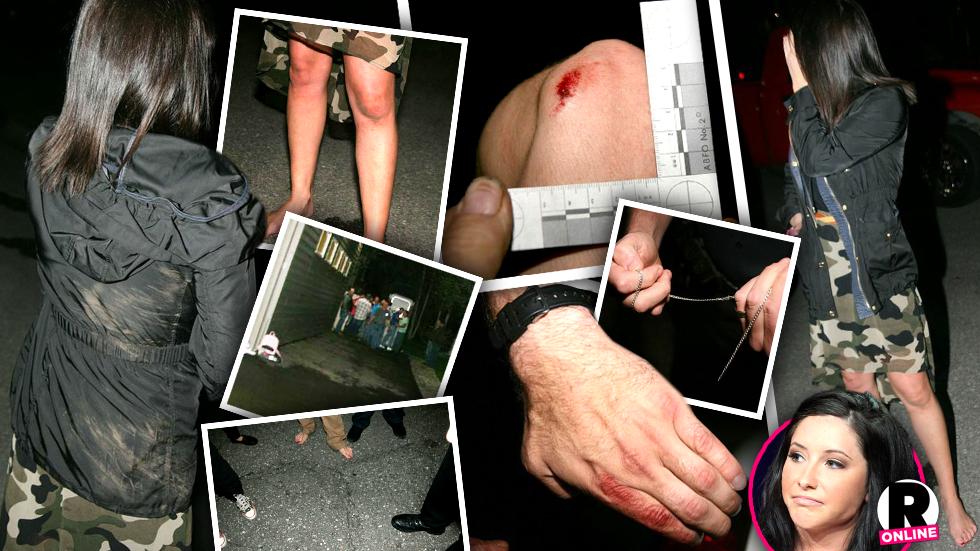 It's the Palins gone wild! Last month, Alaska's former first family was involved in a party brawl that left numerous people injured -- and now only RadarOnline.com has the exclusive photos of the bloody aftermath.
The Anchorage Police Department just released the graphic photos to Radar. They depict what looks like a barefoot Bristol Palin in a camouflage dress and patriotic red-tipped nails covering her face and showing off her dirt-covered black jacket and banged-up knees after allegedly getting dragged by another party-goer.
Article continues below advertisement
According to police, the trouble seemed to start when Sarah Palin's hubby Todd accompanied his kids Willow, 20, Bristol, 23, and 25-year-old Track to the get-together. Host Korey Klingenmeyer claimed that when Bristol started ranting that she wanted to "knock that bitch out" all hell broke loose.
"Korey said that he approached Bristol and got in her way, telling her that it was his house and party and that she was not going to start any fights and that she needed to leave," the police report, obtained by Radar, stated. "Korey said that he then told Bristol to leave again and she began punching him in the face repeatedly, using both hands."
Article continues below advertisement
Eventually, as continued in the report, "Korey said that it did not knock him down but that it hurt and he grabbed Bristol's arm and held her back, pushing her down while holding her hand as she was attempting to strike him."
According to Klingenmeyer's version of events, that's when Bristol's brother got involved: "Track Palin and another male then came at him yelling and threatening to kick his ass," according to the police report.
"Korey said that the two men began throwing punches at him and attempting to fight him. Korey said that he defended himself and fought back while other people also jumped in and began pulling people away and attempting to separate everyone. Korey said that he did not know who Bristol was wanting to fight originally."
The report also notes that "Bristol said Korey called her a 'slut'" over and over.
"Bristol said someone then pulled her around on the grass by her feet…and someone stole her shoes and sunglasses," reads the lengthy police documents.
The report also indicates party guests were yelling "F**k the Palins."
Story developing.