Fallen PALINtician! Former Alaska Governor Sarah Palin Emerges Looking Haggard In Wake Of Alleged Family Brawl – Where's Her Wedding Ring?!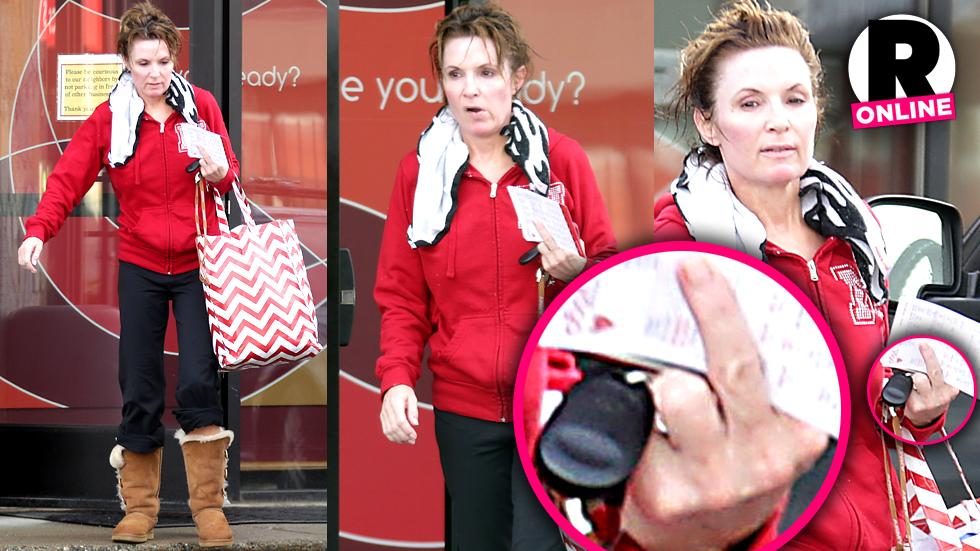 Only days after an alleged brawl took the Palin family by storm, former Alaska Gov. Sarah Palin was spotted shopping in Anchorage, Alaska, not looking like her normal self.
Dressed in red sweats and going makeup-free, Tea Party darling Palin quickly rushed into her car to avoid answering questions about the reported drunken brawl that took place on Todd Palin's birthday. The former VP nominee shielded her face from the cameraman as he asked her if she had anything to say about the events that had unfolded.
Article continues below advertisement
Although her more-casual-than-usual appearance might be somewhat of a shock, what's more notable is that she is out and about without her wedding ring. Could there be trouble in Palin Paradise since the alleged brawl?
According to reports, Track Palin got into a fisticuffs with a man who might have dated his sister, Willow. An Alaskan political blogger pieced together an account of the events through several witnesses. Amanda Coyne's sources told her that "Track Palin stumbles out of a stretch Hummer, and immediately spots an ex-boyfriend of Willow's."
A fight ensues because Track reportedly has issues with his sister's ex, and ultimately everything spirals out of control. The fight allegedly ended with an overprotective Sarah screaming, "Don't you know who I am?!"
Someone allegedly yelled back, "This isn't some damned Hillbilly reality show!"
Communications director for the Anchorage Police Department Jennifer Castro confirmed a fight took place, but didn't say whether or not the Palins were involved.
Watch the video below, and tell us what you think in the comments below!