Sarah Palin Lookalike Is World's Most Popular Female Porn Star!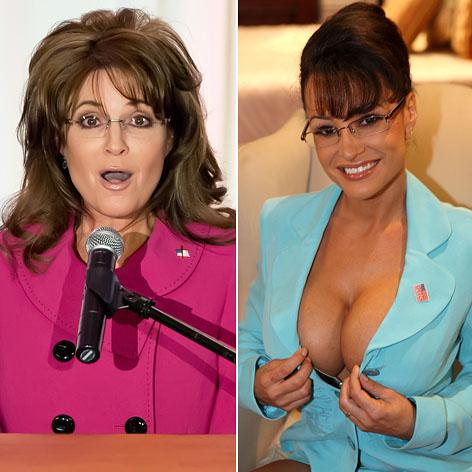 Julianne Moore won a Golden Globe for her portrayal and Tina Fey was lavished with praise for imitating her on Saturday Night Live.
Now another Sarah Palin lookalike – who cheekily played the former vice presidential candidate in the smutty flick Who's Nailin' Paylin? – has claimed a top spot as the most popular female porn star.
According to data obtained by the New York Post, 40-year-old Lisa Ann topped the list of actresses favored by users of adult website Pornhub.com.
Article continues below advertisement
Wearing the trademark Palin bouffant and glasses (and little else), the actress made headlines for her performance as Serra Paylin.
She is not the only woman to have won fans among porn viewers for stripping off and getting raunchy on camera.
Ten years after she filmed a sex tape with ex-boyfriend Ray J, mom-to-be Kim Kardashian's onscreen performance is still popular.
The NY Post compiled the data by looking at the porn-viewing habits of 10 cities/ countries around the world, including New York City, Washington DC, Amsterdam, Tibet and even Vatican City.
Other porn stars who have a worldwide following include former X-rated actress Sasha Grey who made the top 10 list in most cities examined.
Meanwhile an adult actor called Mandingo (who is known for the 12-inch length of his private parts) claimed the top male star spot.
And when it comes to watching X-rated films online the Tibetans come first, watching porn for 14 minutes across nine different websites.
The countrymen of spiritual guru the Dalai Lama leave the rest of the world in the dust. On average porn fans everywhere else spend six minutes over six different sites to get their fix.