A Family Torn Apart: Insults & Accusations Fly Between Uncle Poodle & Pumpkin Over Mama June Molester Scandal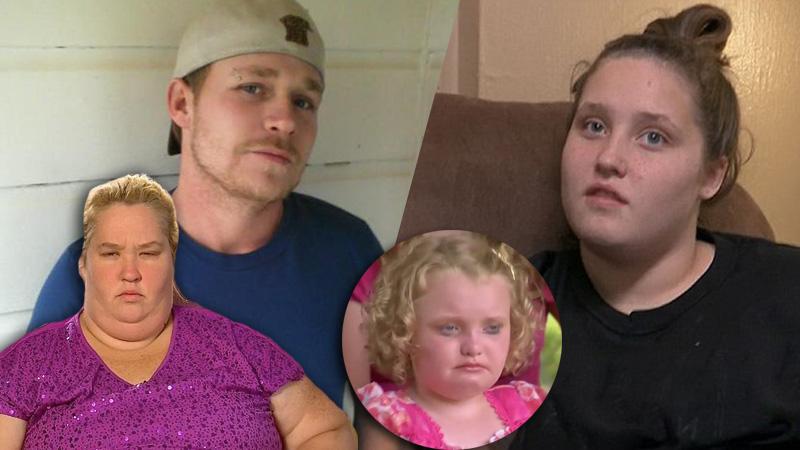 The Thompson family continues to be torn apart by the ongoing scandal involving "Mama June" Shannon's rekindled relationship with convicted child molester Mark McDaniel, leading to the cancellation of Here Comes Honey Boo Boo, and vicious infighting between the relatives.
The latest battle on Monday involved Alana "Honey Boo Boo" Thompson's uncle Lee "Uncle Poodle" Thompson and 14-year-old sister Lauryn "Pumpkin" Shannon, duking it out Monday over the recent controversies, with sharp words and accusations.
Article continues below advertisement
Pumpkin on Monday took to Instagram to attack Uncle Poodle — the brother of Honey Boo Boo's father, Mike "Sugar Bear" Thompson — claiming that he's sold false stories to the tabloids; and told her personally he hopes June dies painfully from cancer.
Her statement read, in full:
"THIS HERE IS UNCLE POODLE AND HIS MAN. THEY ARE UPSET BC THE SHOW WAS CANCELLED AND THEY NO LONGER HAVE MONEY. THEY HAVE BEEN SELLING FALSE STORIES AND MAKING MONEY. HE TOLD ME EARLIER TODAY THAT HE HOPED MY MOM GOT CANCER AND DIED OF A SLOW PAINFUL DEATH. GET THIS HE IS 30 YEARS OLD TELLING A 14 YEAR OLD THIS. EVERY STORY THATS OUT RIGHT NOW HE HAS PUT OUT AND ITS ALL FALSE. HE JUST THINKS IT ALL FUN AND GAMES SELLING FAMILY OUT BUT KARMA IS A BITCH TRUST ME I KNOW HER PERSONALLY. SO IMMA SIT BACK AND LAUGH BC WHEN THE TRUTH COMES OUT YOUR F*CKED."
Poodle didn't deny Pumpkin's claims outright, but began pointing fingers himself, accusing June of lying to Sugar Bear about her time with the sex offender, adding he had "photographic evidence" confirming her wrongdoings.
In a sharp statement directed at June, Poodle said the reality TV mom "allowed a convicted child molester who molested your oldest daughter to be around your 14 and 9 year olds."
He alluded to June renting a car in McDaniel's name, and then using her own credit card to secure a Macon, Ga. hotel, noting that the hotel was where a damaging photo of June with the convicted pedophile was taken. Poodle said that June misled Sugar Bear into believing she was in Los Angeles "for press work," asking her, "Why not just be honest for a change?"
Article continues below advertisement
Poodle said June threatened to call the cops on him for trespassing "after I told my brother EVERYTHING with photographic evidence."
But cooler heads seemingly prevailed at least for the time being, as Poodle removed the post from his page, vowing to keep things on an upbeat note moving forward.
"No more about June and them, talked to a really good friend and she was right, let it all go there's nothing I can do about it," he wrote on Facebook early Tuesday. "Just worry about me and mine and don't worry about them.
http://instagram.com/p/urX81vjoqO/?modal=true