Exclusive
'Controlling!' Portia de Rossi 'Checking In' On Wife Ellen DeGeneres At Work – 'Worried' She'll Cheat?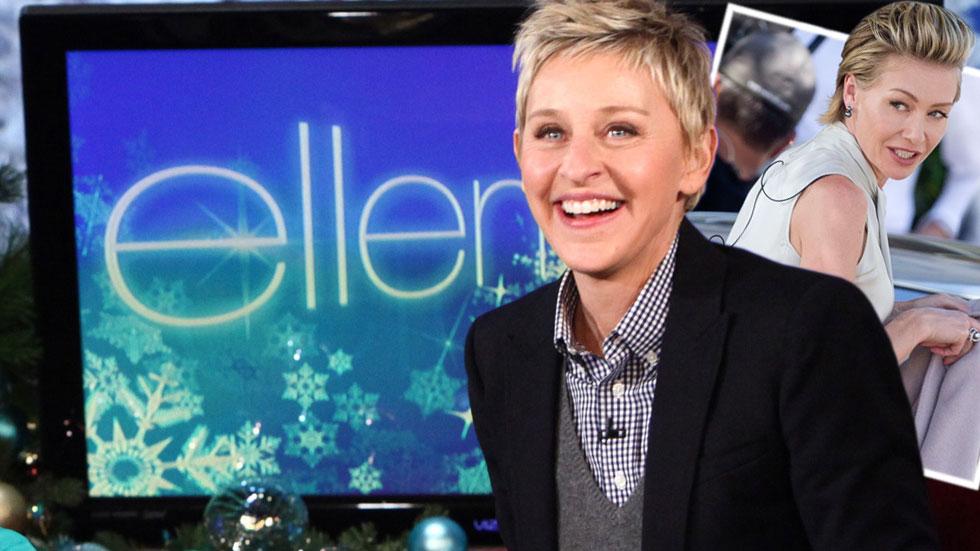 Nearly three months after explosive claims that Ellen DeGeneres had cheated on her wife, Portia de Rossi, the couple's relationship seems as tumultuous as ever. Earlier this week, they reportedly skipped a fight after an epic blow-out. And now, RadarOnline.com has learned, de Rossi has found a new way to take control of her crumbling marriage — by keeping DeGeneres under her thumb at all times!
In recent weeks, the Scandal star has suddenly begun haunting the set of her wife Ellen DeGeneres's TV show, according to a studio source at Warner Bros. in Glendale, Calif., where The Ellen DeGeneres Show is filmed.
Article continues below advertisement
"It is kind of creepy," the source tells RadarOnline.com exclusively, adding, "Portia never used to come to see her at work."
"Ellen tells us that it helps having her there because she 'at least she doesn't have to worry about her being home alone,'" the insider adds. "I have to admit, however, it seems like Portia is being slightly controlling by her unplanned visits."
This is not the first time that sources have claimed that control has been a problem in their marriage.
In July, de Rossi, 41, secretly taped drunken arguments between her and the 56-year-old talk show host, according to reports in In Touch magazine.
"Portia secretly taped some of their arguments. She was drunk," a source told the magazine. "Then she threatened to expose Ellen as controlling and manipulating."
The couple insist that their marriage is fine and they're happier than ever.
Do you think that Portia is being controlling by visiting Ellen at work? Let us know in the comments below.