Melissa Gorga & Dina Manzo Duke It Out At 'RHONJ' Reunion Taping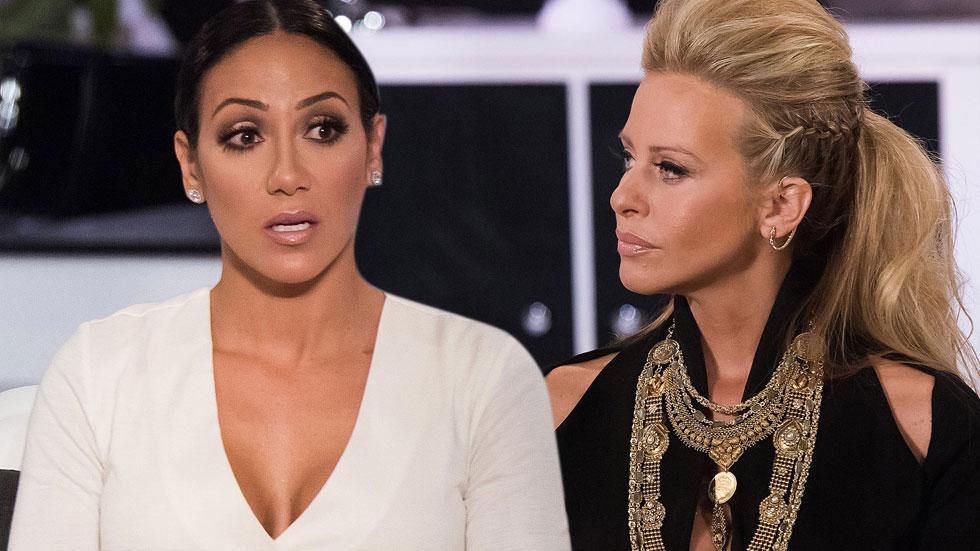 Could the Real Housewives of New Jersey reunion be the most explosive one yet? In the latest dramatic development from behind-the-scenes, RadarOnline.com has learned that Melissa Gorga and Dina Manzo enraged each other while trading barbs over the meaning of family.
The heated exchange began with Gorga questioning Manzo's relationship with her sister, Caroline Manzo, and sister-in-law, Jacqueline Laurita, 42. "Manzo sniped that she wished someone would use glue and concrete to keep Laurita's mouth shut," an insider tells Radar exclusively.
Article continues below advertisement
Gorga, 35, wasn't about to let the barb go, and she ripped into Manzo. "Jacqueline has a lot going on in her life, including dealing with her autistic son, and Melissa jumped to her defense," says the insider.
Laurita, 44, had smartly refused to attend the taping of the reunion because she didn't want to deal with the drama, reveals the source.
As Radar reported, Manzo hinted she might not be returning for another season after a fan asked her on social media, "I know you can't comment but can you at least say if you have any interest in returning next season?"
The 43-year-old reality star's response to the question left little room for doubt. "NONE my soul can't be around horrible people," she says.
While Manzo didn't specify exactly who these "horrible" people were, one rumor making the rounds is that she's none too happy that her nemesis sister-in-law, Laurita, 44, could make a return to RHONJ.
"There is no love lost between Melissa and Dina," Radar's source notes. "Melissa wants nothing to do with Dina, and questions anyone that can't get along with Jacqueline."
While Gorga and Laurita may still be smarting from the reunion, the show's producers are "very happy with the fireworks between Dina and Melissa," says the insider, who adds that the reunion is set to run over a three-week period, starting Sunday, November 2 at 8 p.m.