Dean McDermott 'Done With Social Media' After Nasty Spat Over Sex Shop Trip With Tori In The Hospital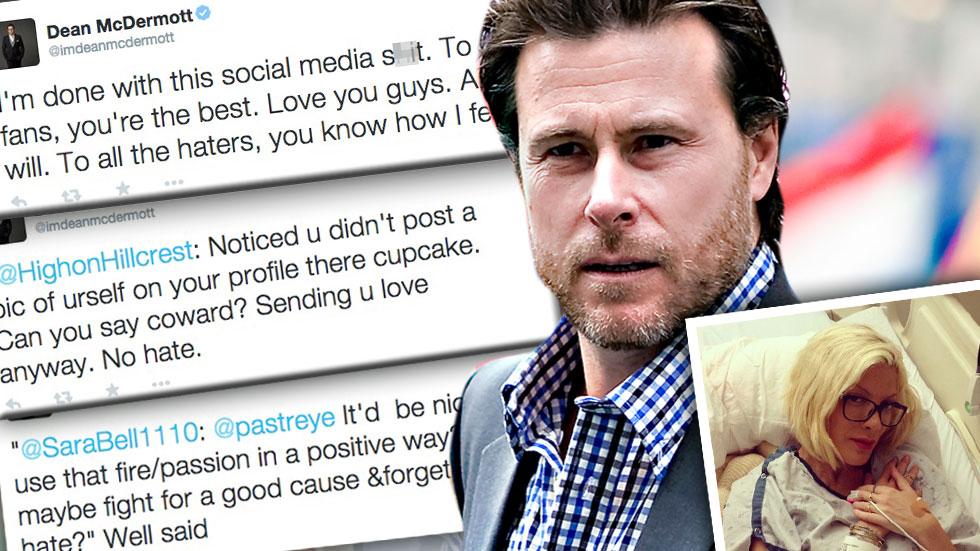 Dean McDermott's tired of the public's feedback.
The Canadian actor said he was quitting social media after dealing with Twitter trolls baiting him about his marriage.
"I'm done with this social media sh*t," McDermott tweeted Tuesday. "To all my fans, you're the best. Love you guys. Always will. To all the haters, you know how I feel."
McDermott came to the decision after Twitter user @HighonHillcrest dubbed him and Tori a "douche" and a "fame whore," to which he responded, "Noticed u didn't post a pic of urself on your profile there cupcake.
Article continues below advertisement
"Can you say coward? Sending u love anyway. No hate."
But it didn't end there: McDermott blew his stack after another user, named @TruthAndSarcasm, said he was a "scumbag" for visiting an Encino, Calif. sex shop while his wife remains hospitalized battling bronchitis, sinusitis and pneumonia.
"Wife is laid up in the hospital & you have time to go to a Adult Store," @TruthAndSarcasm wrote, telling the actor, "When they called you a Scumbag, that's being nice."
McDermott, 47, explained his eyebrow-raising trip to 69 Adult Toys.com, saying he "bought Tori a gag gift to make her laugh" — before launching into a profane rant against his online critics.
"All you haters need to F*CK OFF!! I've had it with you a**holes. GO F*CK YOURSELVES," he wrote, specifically asking @TruthAndSarcasm, "Who the F*CK do you think you are? Any time any place pal.
"You hide behind your bullsh*t twitter name. Show urself pr*ck."
From the sound of things, perhaps a break from social media is best for the father-of-five.
True Tori airs Tuesdays at 9/8c on Lifetime.