Mama June Denies Reports She's Dating Pedophile Ex Mark McDaniel, Points Fans To Radar's Coverage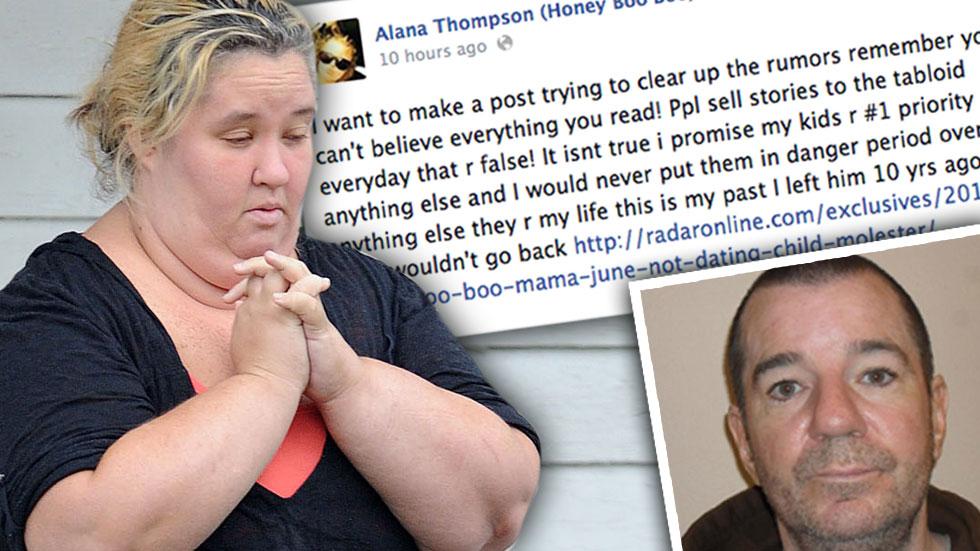 Article continues below advertisement
Mama June said people "sell stories to the tabloids everyday that are false," and that news of her rekindled romance with McDaniel — who was indicted in June 2003 for molesting an 8-year-old relative of her's — "isn't true.
"I promise my kids are #1 priority over anything else and I would never put them in danger period over this or anything else," she wrote, dubbing McDaniel a part of her past.
"I left him 10 yrs ago for his sex offenses, and I wouldn't go back," the 35-year-old reality star wrote of the 53-year-old McDaniel, who served nearly a decade in custody — from June of 2004 until March of this year — on an aggravated child molestation conviction.
As RadarOnline.com exclusively reported, Pumpkin on Thursday said that her mother and McDaniel "haven't seen nor talked to each other in 10 years," and that Mama June is in no rush to dive back into the dating pool after last month's breakup with Mike "Sugar Bear" Thompson.
"She is all about the kids — she only needs us girls, no one else — we are all sticking together as one happy family with us four girls," Lauryn said, noting that an image floating around of her mother in bed with the convicted pedophile is photoshopped.
The controversy caused the family's home network of TLC to react, as a network rep told Mail Online it's "very concerned about this new information," and is "reassessing the future of the series."