Kris Jenner Claims Late Ex Robert Kardashian Sr. Believed O.J. Simpson Was Innocent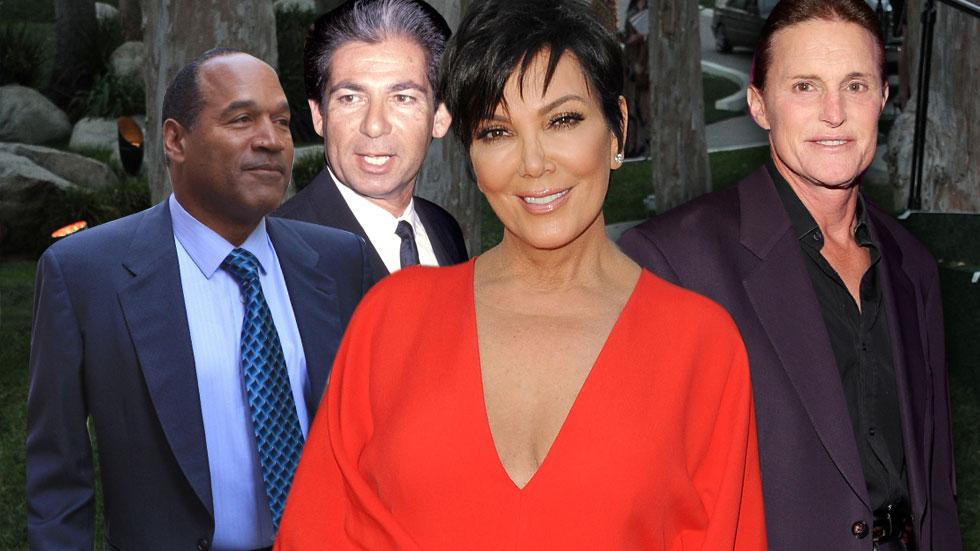 In her first major interview since filing for divorce from estranged husband Bruce Jenner, Kris Jenner opens up abut her grassroots efforts as a "Momager" — in this case, a "Wife-ager" to the Olympic legend — as well as revealing new details about the trouble she witnessed between O.J. and Nicole Simpson five years prior to the double-murder that led to the "Trial of the Century."
Kris, 58, told E!'s Giuliana Rancic that long before she led her daughters to their multi-million dollar empire of fame and fortune, she cut her teeth developing Bruce's marketability, seeing untapped potential in her then-beau as a motivational speaker, as he had a "fantastic ability to really motivate an entire crowd of people.
Article continues below advertisement
"We would … hand make these PR kits and we would hand-deliver it to everybody we could think of and mail it to speakers bureaus around the country," she recalled, "and we sat back and waited for the phone to ring.
"And the phone rang."
In the chat, Jenner also opens up on the O.J Simpson scandal that launched her family's name into the public's consciousness, saying she felt her late ex-husband Robert Kardashian was confident in his longtime friend's innocence in the Jun. 1994 double killing, "or he wouldn't have" represented him in court.
"He wrote me a letter, the night before the trial started … just explaining the reasons why he chose to do what he was doing," she said, adding that the late attorney "felt like he had a duty as a friend and a confidante for all those years."
She said she didn't have an inkling of the troubled situation between O.J and Nicole Simpson "until about 1989," five years before the double-killing, during a trip to New York to celebrate her birthday.
"I noticed that it was getting really uncomfortable then," she said.
The interview, Beyond Candid with Giuliana: Kris Jenner, airs Sunday on E! at 10/9c.