Exclusive
Kate Gosselin's Nip Tuck Obsession Revealed: She's Had A Facelift, Botox, Fillers & Injectables, Top Docs Suggest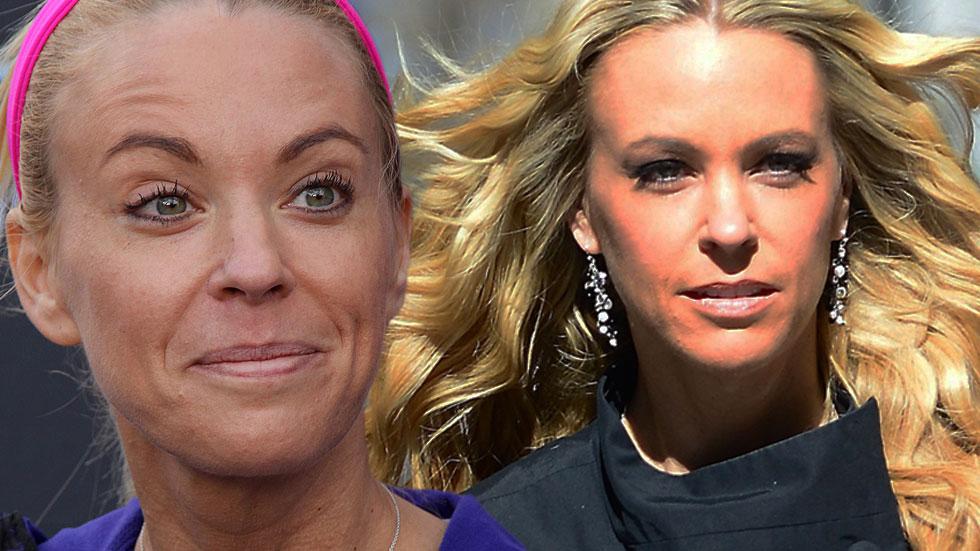 She may have failed at trying to soften her public image recently.
But Kate Gosselin has succeeded in turning back the years and erasing the hard lines on her face – according to some of the nation's top plastic surgeons.
A few experts have analyzed photos of the mom-of-eight and shared their opinions with The National ENQUIRER.
And it seems the 39-year-old has been dipping into a cosmetic surgery bag of tricks to hold on to her youthful looks.
Article continues below advertisement
New Jersey-based plastic surgeon Dr. Steve Fallek – who has not treated Kate – says, "I think her face looks tighter and that she's had a facelift.
"Injectables alone would not create that smooth and contoured jaw line and chin.
"It appears that her skin has been lifted along the sides of her face very skillfully without creating an overly pulled look.
"It's an excellent facelift!"
That doesn't mean that Kate isn't a stranger to Botox or fillers to rid herself of wrinkles.
Dr. Anthony Youn of Troy, Mich., who also hasn't treated Kate, says, "I suspect she had Botox injected into her forehead to smooth frown lines, and a filler called Juvederm injected into her nasolabial folds, which are the lines running from her nose to the corners of her mouth."
Whatever Kate's doing Dr. Youn thinks it's working and that she actually looks like another, younger celebrity.
He tells The ENQUIRER, "She looks like a young Jessica Simpson!"
Pick up a copy of the latest issue of The National ENQUIRER to read more about the cosmetic surgery cocktail Kate may have used to stay forever young.