Arrivaderci Giuseppe? Joe Giudice Ponders Moving Family To Italy After He's Done In The Pokey, Says He'll Worry About Potential Deportation 'When The Times Comes'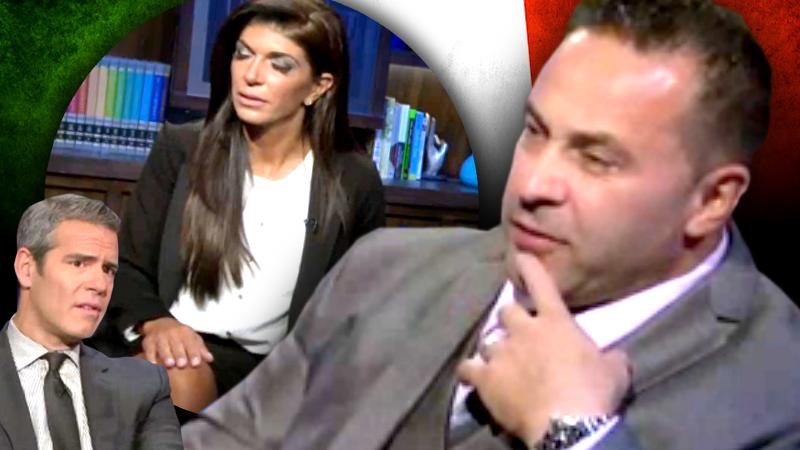 With everything on his plate these days, getting kicked out of the country is the last thing on Joe Giudice's mind.
In a preview of the second part of Watch What Happens Live: One-On-One with Teresa and Joe Giudice, the prison-bound father-of-four said he hasn't yet worried about the possibility of being deported after his 41-month prison sentence is complete.
"I'm gonna worry about that when the times comes," said Joe, who's due to enter prison after his wife Teresa's 2016 release from her 15-month stint in custody.
Article continues below advertisement
Asked if he's milled over the idea of moving his family there in five years, after their sentences are complete, Joe posed the question, "Is that such a bad thing?"
A nodding, supportive Teresa chimed in, "It's in God's hands."
A stoic Joe added that he doesn't particularly look at things through a long-term lens.
Watch the video on RadarOnline.com
"You gotta think about it moment-by-moment, day-by-day — you can't think of things five years from now," the burly 42-year-old said. "There's no guarantee we're gonna be here in five years."
As we previously reported, a Giudice insider told RadarOnline.com that the family's attorneys have told Joe — who never initially became an American citizen — he "should be prepared to be deported back to Italy.
"There was hope he could avoid being deported on a technicality, but immigration officials are ready to begin the proceedings. This is a high-profile case, and the feds don't want to be viewed as going easy on Joe … but he won't be deported until he finishes serving the prison sentence."
A second installment of Watch What Happens Live: One-On-One with Teresa and Joe Giudice airs Thursday at 9/8c on Bravo.