Exclusive
'Airwolf' Star Jan-Michael Vincent Felt 'Beaten' After Leg Amputation – Two Surgeries Left Him Knocking On 'Death's Door'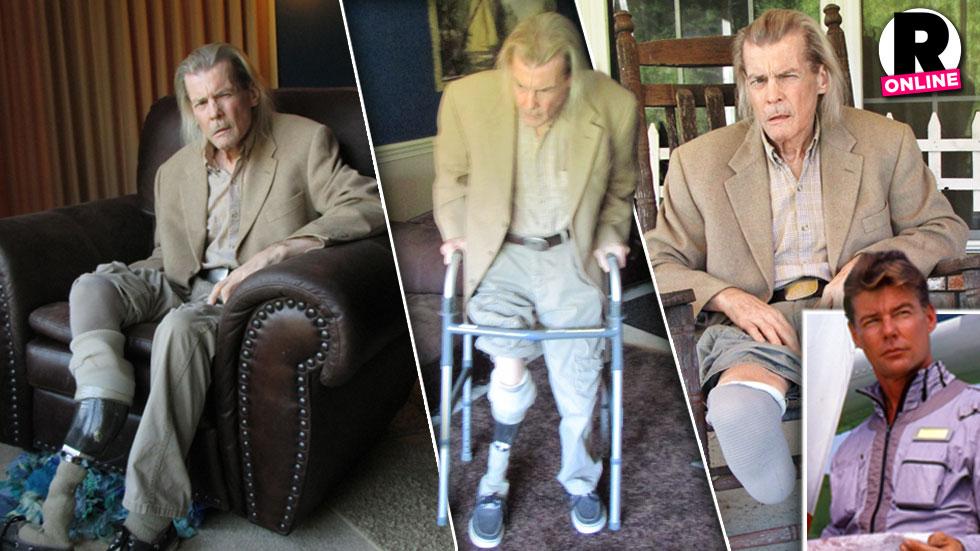 He might be missing one leg, but Jan-Michael Vincent's attitude never faltered since a bad infection changed his life drastically.
In an exclusive interview with The National ENQUIRER provided to RadarOnline.com, Vincent talks about life after being a Hollywood star and losing his leg. The former Airwolf star, whose life has been ravaged by alcohol, drugs and violence, told the magazine that he knocked on "death's door" after a leg infection – a result from complications of peripheral artery disease - forced doctors to remove the majority of his right leg.
Article continues below advertisement
"I felt like I was beaten with a whip," he revealed to The ENQUIRER. But it wasn't over after the initial amputation. Vincent's wife, Anna, said that while he was recovering from the drastic surgery, she was forced to "be brave for him" despite wanting to faint. She also admitted that doctors told her he might not survive because of the severity of his health.
"I remember one horrible night in the hospital," she recalled. "I had to help hold him down and keep the oxygen mask on him so he could breathe."
But after a month in the recovery ward, the '80s heartthrob developed another infection, resulting in a second amputation. His wife, however, stayed by his side and has even helped him learn to walk with a prosthetic limb, which helps keep his spirits high.
"I look at this now and think I have nothing to be upset about when I think about what our U.S. military go through," he told the magazine. "They're the real heroes."
Although he has maintained a positive outlook, Vincent's financial problems also weigh on the couple. His wife revealed to The ENQUIRER that they owe about $70,000 in back taxes.
"I'm praying for a solution," Anna said.
For more on his plight, pick up the latest issue of The ENQUIRER, on stands now!