Exclusive
Warlock On The Warpath! Charlie Sheen Sued For Sexual Assault Of Dental Assistant After Alleged Knife Attack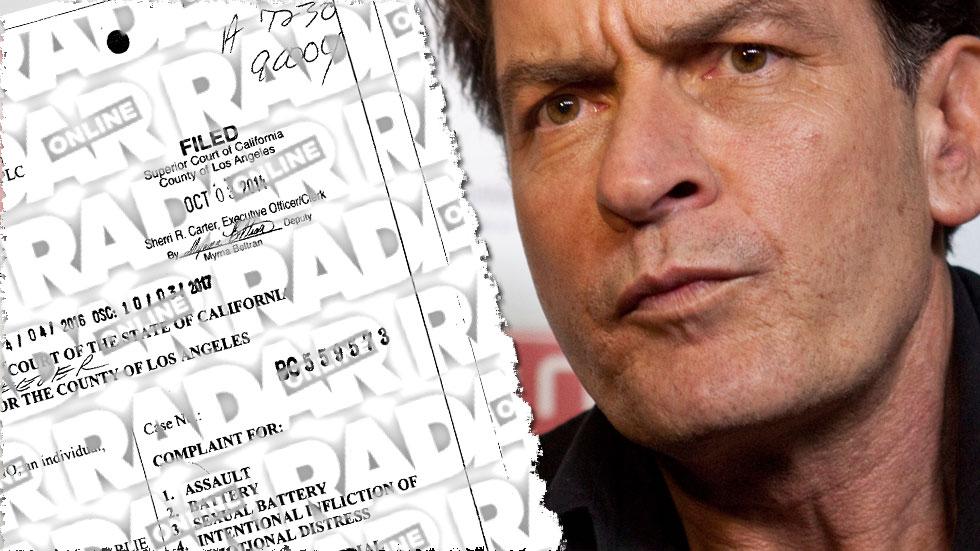 Life just got even crazier for Charlie Sheen. After the mercurial Anger Management star was accused of attacking a dental technician with a knife earlier this week, RadarOnline.com has learned that the same woman is suing him for assault, battery, sexual battery, and intentional infliction of emotional distress.
According to the lawsuit, filed in Los Angeles Superior Court on Friday, just one week after the alleged incident, Margarita Palestino, claims that when she attempted to put a nitrous oxide mask on Sheen, he "grabbed her left breast area and pulled her scrubs.​ As Plaintiff struggled to break free from Charlie Sheen's hold of her clothing, he reached for her back, grabbed her bra strap and forcefully pulled it down in an attempt to open or remove her bra."
Article continues below advertisement
Sheen also allegedly yelled "I'm going to f*cking kill you!" the documents claim.
Sheen's attorney, Marty Singer, tells Radar, "This fictional and fabricated lawsuit is nothing more than an attempt by the lawyer and the client to get their 15 minutes of fame. She filed this suit after she lost her job last week for violating HIPPA rules protecting patients. We are very confident that we will dispose of this absurd claim."
The docs also allege that the dentist told Palestino, after she had left the exam room, that Sheen had pulled a knife on him and "repeatedly stabbed a chair in the examination room" — an accusation that Sheen's camp has vehemently denied.
"There was no knife and no one inside Charlie's camp has heard from the LAPD," Sheen's rep, Jeff Ballard previously told Radar.
Ballard also claims the hard-partying groom-to-be had not used illegal substances before the visit — but was simply taking medication for a shoulder injury at the time of the alleged incident, which caused a bad reaction.
Article continues below advertisement
"He was not under the influence of rock cocaine during his visit to the dental office," Ballard explains. "But he had a bad reaction to the medications that he was on, which explains the photos of him leaving."
But according to the documents filed in the lawsuit, the exam room walls were littered with Sheen's spit, which Palestino says she had to clean up, and the dentist allegedly told her Sheen was "high" on a combination of crack cocaine, Theradol, and alcohol.
Palestino is seeking unspecified damages for pain and suffering, attorney's fees, and a jury trial.
Story developing.