A Dream Come True: 'Teen Mom 2' Star Jenelle Evans' Mother Barbara Finally Agrees To Give Her Custody Of Son Jace!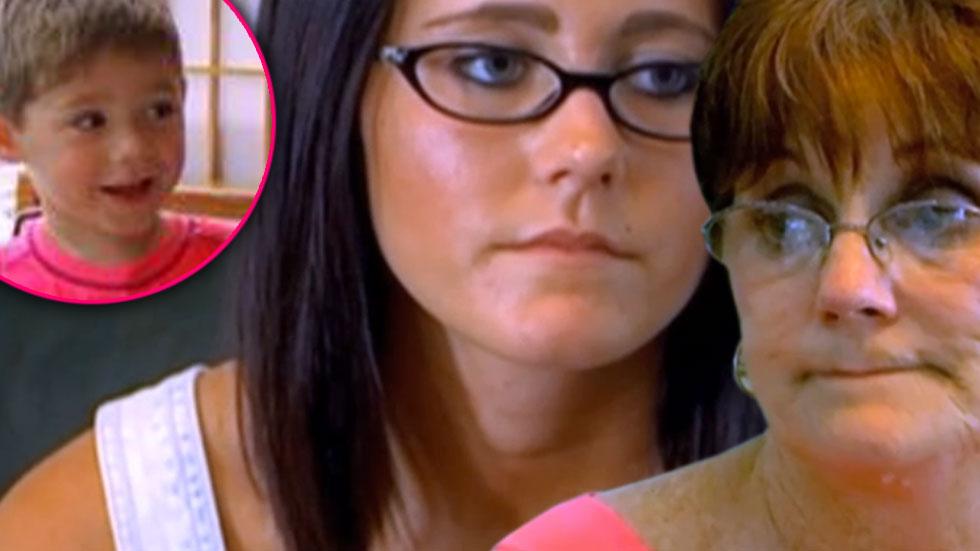 Jenelle Evans' dream is finally coming true: She's getting her son back!
In a new video preview for next week's Teen Mom 2 season finale, the recovering heroin addict, 22, discusses regaining custody of 5-year-old Jace with her mother Barbara and boyfriend Nathan Griffith.
The mother/daughter duo, who normally erupt into blowout fights, finally seem to come to an agreement in a calm, peaceful manner.
Article continues below advertisement
"I don't think we have to go back to court, there's no sense of that. I can just sign off on it," says Barbara, who became Jace's guardian after Jenelle became mixed up in drugs and dangerous men soon after Jace's 2009 birth.
"So basically, you'll let me have Jace back in a couple of months?" Jenelle asks.
"We can transition him over a year back to you," Barbara responds.
The normally hot-headed Barbara then begins to cry reminiscing about how her daughter— the new mother to son Kaiser, 2 months— has matured in recent years.
"The whole bottom line to this is Jenelle you are grown up," the protective mother says. "Finally, I can see it. We're going to work on this as a plan."
Barbara admits she'll miss Jace "terribly," but "he's not my child. He's my grandson," she reasons. "It will break my heart to have him feel like I abandoned him or I just threw him away."
A gentle Jenelle assures her mother that won't happen.
"I can't believe we finally came this far," Barbara cries. "I thought you'd be dead. So now everything is good."
Despite fighting with Griffith and causing controversy by smoking cigarettes while breastfeeding baby Kaiser, Jenelle has come a long way: She is sober, relatively stable and now studying to become a surgical assistant at a local South Carolina college.
WATCH the clip here:
Do you think Jenelle is finally ready to be a mom to Jace? Sound off in the comments and watch the heartwarming video below.