Exclusive
'RHONJ's' Nicole Napolitano's Boyfriend Bobby Ciasulli Posts Insensitive Selfie From Car Accident Scene – Fans Cry 'How Pathetic!'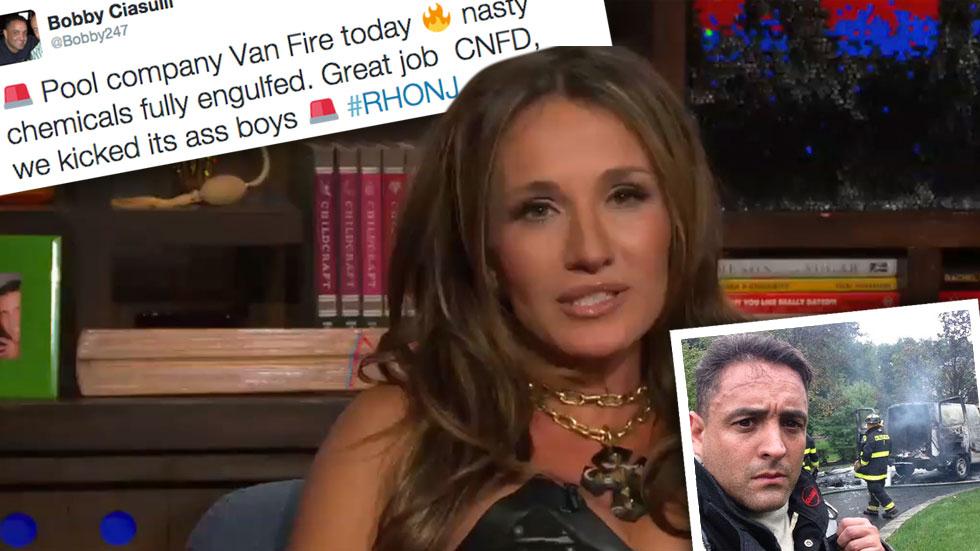 Real Housewives of New Jersey's Nicole Napolitano's boyfriend, Bobby Ciasulli, a volunteer firefighter, posted a picture from the scene of a horrific car fire and was heavily criticized on social media for the insensitive photo.
On Thursday, Bobby uploaded a selfie from a van that had been destroyed by a fire, and said, "Pool company Van Fire today nasty chemicals fully engulfed. Great job CNFD, we kicked its ass boys #RHONJ."
Article continues below advertisement
According to his Twitter profile, Bobby is a "firefighter, hell of a guy, RHONJ 6." But he fails to mention that his father, Bob Ciasulli, owns the largest, multimillion dollar car dealership in New Jersey.
A source tells RadarOnline.com exclusively, "Bobby didn't want anything to do with the family business on the show, and only became a volunteer firefighter before filming began on Real Housewives of New Jersey.
MORE ON:
Nicole Napolitano
"He wanted to be a blue collar guy, and develop a different persona on television," the source adds. "In fact, Bobby only began dating Nicole several months before the show also began."
The selfie that Bobby posted on social media quickly caused criticism, with reactions ranging from "This is becoming quite comical. #SelfiesOnScene," "Seriously. How pathetic!" and "This is just plain weird. Who thinks of taking a selfie while clearing a fire?"
Our source added, "Will Bobby stick around if Nicole decides to not do another season of RHONJ? Probably not...He is interested in moving to Los Angeles and pursue an acting career."