Exclusive
Un-Pee-Lievable! 'Pawn Stars' Fave Corey Harrison Caught Urinating In Public — SEE The X-Rated Photo From His 'Sloppy' Drunk Night!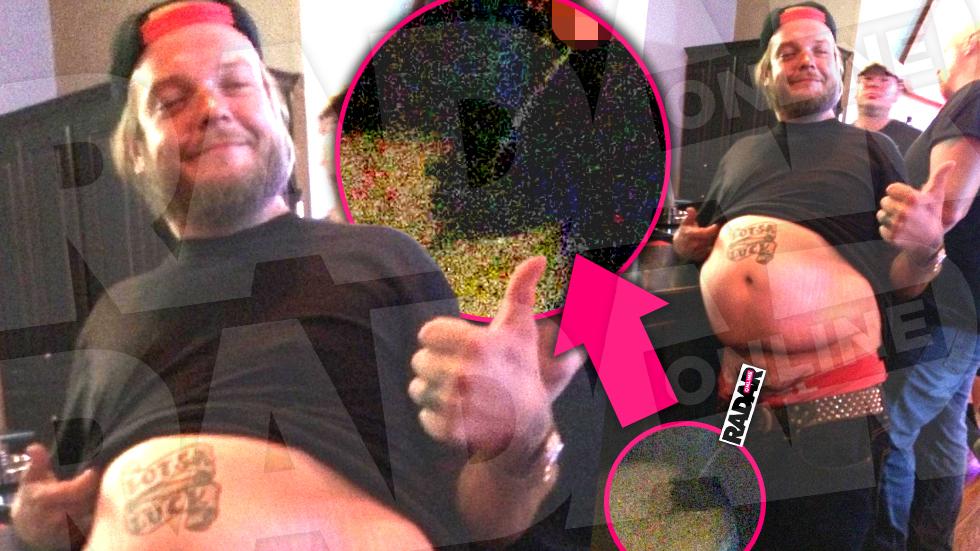 On every episode of Pawn Stars, Rick Harrison promises viewers, "You never know what's gonna come through those doors." And on a recent night in Jefferson City, Missouri, bar patrons were shocked when it was series star Corey Harrison that came ambling in — and proceeded to urinate all over the bar! Only RadarOnline.com has the shocking details of his "sloppy" night out, and the jaw-dropping, X-rated photo that will humiliate his family.
Article continues below advertisement
Harrison had joined a group of motorcycle enthusiasts for a long drive sponsored by Hot Bike magazine, Radar has learned, and the group stopped in Jefferson, City, Missouri on Sunday, August 17.
"There are only two bars open in Jefferson, Missouri, on Sundays," an eyewitness tells Radar. "We went in to eat dinner at a bar called Spectators around 9 p.m., and he was there."
"Corey had been with us all week riding, and had gotten drunk every night," the source claims. "But this particular night, he was very drunk."
"He was doing copious amounts of shots," the source says. "It seemed like just about anything just drinking and drinking. I know it was building up. You could tell when we walked in the bar that it was not gonna go well. He was so sloppy drunk and so obnoxious, you just knew this was heading towards a bad scene."
Indeed, the source recalls, "All of a sudden, it was just, bam! He got his pants down, peeing on a bar stool, being very proud of it. I couldn't believe he was doing that. The bar owner was there, and was obviously upset, but somebody from the bar ams with a towel and cleaned up the pee."
Article continues below advertisement
Amazingly, the bar owner let him stay — until Harrison's bad boozy behavior got even worse, according to the source.
"He picked up a barstool and threw it across the bar!" the source says. "After that, finally the bar owner had enough. He grabbed him by the shirt, and some of the guys with Corey and the locals started pushing and shoving. No punches were thrown."
"He finally got escorted out of the bar, and wandered up the street," the source said. A few hours later, at the hotel a few blocks away, "I saw him getting a ride home from one of the local law enforcement officers. He wasn't arrested or anything like that. They just thought he could use a ride!"
Sadly, that one crazy night was hardly the exception for Harrison on the road, according to the source.
"I think the explanation of why will never be answered for such a picture," the source said. "But he'd been such an a**hole all week. The guy that owned the bar, he's got no defense. He's got to clean up this piss and Corey thinks it's acceptable because he's got a sh**ty show on the History Channel."