'Pawn Stars' Shop Buys $50,000 In Stolen Gold Coins — Owner Wants Them Back, But Shop Admits They Melted Them!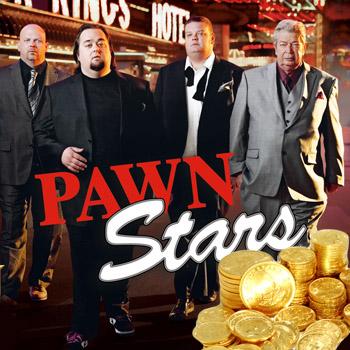 A pile of gold coins worth $50,000 will never be returned to their rightful owner because the famous Las Vegas shop on the Pawn Stars reality TV show claims they melted them!
Nevada-native David Walters filed a criminal complaint with the Clark County Justice Court after he alleged his niece, Jennifer Beckman, stole his valuable coin collection last year from his Vegas home and then pawned them at the shop of The History Channel's show.
Article continues below advertisement
The complaint claims Beckman stole the coins — which were kept hidden in a bag under a dresser — over a period of time and eventually sold them to the Gold and Silver Pawn shop.
Beckman reportedly netted $12,375 from the sale of the coins, which authorities tracked down to the Pawn Stars shop and were hoping to recover for Walters, until they were told too much time had passed.
Walters reported the theft on Nov. 27, 2013, and police notified the reality TV shop on Dec. 5 of the theft — and while Nevada law regulates that pawn shops must hold items for 30 to 90 days in case owners would like to buy them back, or police need to identify stolen items, the shop did not.
However, it turns out coins are not included under items that must be held and the shop's owners were free to do with them what they wanted.
The shop's spokesperson, Laura Herlovich, told ABC, "In a fast-moving shop, particularly our shop, because of its fame, you move things quickly. We go through them."
"If the grader is not someone we trust, the cases are cracked open and the coins are sent out to be melted down. That was the case here. I don't know for sure, but I believe a majority were melted down. They weren't worth what he Walters thought they were worth."