Pawn Stars' Rick Harrison Haunted By New Wife's Sex Offender Ex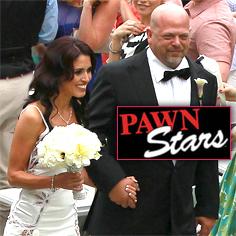 Deanna Burditt, the new wife of Pawn Stars personality Rick Harrison, was once married to a sexual deviant who's evaded custody despite admitting in court to felony counts of forcible sexual abuse and dealing in materials harmful to a minor.
Deanna's ex Richard Burditt WAS ARRESTED in September 2009, posted $18,024 in bail, and pleaded guilty in February 2013, and has yet to serve a day behind bars, to the chagrin of the reality star.
MORE ON:
National Enquirer
Article continues below advertisement
Harrison says Richard hasn't served any time "because of all the bureaucracy" -- and sources close to the buyer/seller say it's stuck in his craw.
"Rick is very protective of Deanna," a family insider tells the ENQUIRER. "She's the love of his life, and the fact that this sicko is still out there running around free just makes his blood boil -- Rick won't rest until he sees Richard behind bars."
The source said that "this whole situation has been extremely distressing for both him and Deanna," and "after all these years, they just want to see justice finally served."