Exclusive
'Pawn Stars' Production Lawsuit: Olivia Black Says Her Firing Was 'Hypocritical,' Photos Unjustly Viewed As 'Disgusting And Pornographic'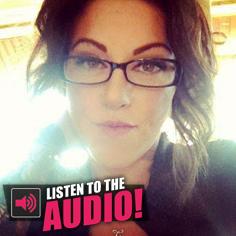 Former Pawn Stars cast member Olivia Black plans to sue the production company after she was fired from the hit show when nude photos of her on a soft-core website were discovered, and now she's speaking out exclusively to RadarOnline.com calling the entire thing "hypocritical."
In exclusive audio obtained by Radar, the brunette bombshell opens up about the discrimination she feels she was targeted with, how she was fired, and why she plans to followup with legal action.
Article continues below advertisement
"I think it's very hypocritical that a female that has any nude photos or anything of that nature, that I'd have obviously willingly done, and participated in all of these, I'm looked at as being negative and it's looked at as porn or anything like that," Black told Radar.
"But if a male does it, takes nude photos or does a movie in which he's showing any nudity at all, it's looked as as art, it's looked at as being very up and coming and very courageous, but if a female does it it's always something negative and disgusting and pornographic."
Black was fired in 2012 when racy photos of her on the website SuicideGirls.com went public, after she says she was told in a roundabout way to cover them up.
"Production definitely alluded to the fact that if there were any nude photos out there I should probably keep them under wraps and sweep them under the rug, and probably not talk about them any longer," Black told Radar.
But Black didn't see them as provocative X-rated photos, and she was fired on April Fool's Day.
Article continues below advertisement
https://media.radaronline.com/brand-img/wp-content/0x0/2013/10/olivia_black.mp3
"No one from the production company has contacted me at all. I have talked to the guys at the pawn shop actually within the last couple of days about working on something completely different," Black said.
"So it's really nice, it's really comforting knowing that the guys at the pawn shop are on my side and supportive of me and really could care less what I choose to do in my personal life."
And after it was pointed out to her that her firing was alleged discrimination, Black has decided to move forward with legal action against Leftfield Pictures.
"A lot of people have advised me of that fact and informed me that it's possibly a form of discrimination and I that I need to follow through with that idea and figure that out," she said.
"I have been discussing with a few close people and we've begun talking to lawyers about exactly what grounds I have for a lawsuit."
When contacted by Radar, Leftfield Pictures said they would not to commenting on the matter.