Exclusive
Former 'Pawn Stars' Cast Member Olivia Black Suing Production For Being Fired After Sex Scandal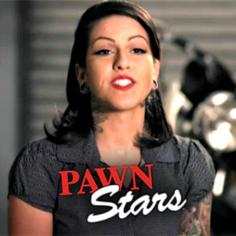 Former Pawn Stars cast member Olivia Black is hitting back after being abruptly fired in 2012 from the hit show when a sex scandal revealed racy photos of her on a soft-core website.
After a year and a half on the History Channel show working as the night shift employee who Austin "Chumlee" Russell loved working with, Black was fired when the sexy photos went public.
"I do not know why I was fired from the show," Black previously told RadarOnline.com.
Article continues below advertisement
"I got a call and the production company told me that my services were no longer needed on the show."
According to Black's rep, nude photo scandals appear to be subjected only to female television personalities and it's because of that, that the saucy brunette has been advised to sue the production company, Leftfield Pictures, for discrimination.
"Olivia has missed seeing her fans from Pawn Stars as much as they've missed seeing her. Her firing was abrupt and unfortunate and I think the public deserves more answers," her rep Domenick Nati told RadarOnline.com.
"Olivia is ready to address this situation and she will still be moving forward with her national tour."
Nati also tells RadarOnline.com that Black is in the beginning process of starting her own reality TV show.
Stay with RadarOnline.com for developments...