Exclusive
'World Of Tension': The 'Honeymoon Is Over' For Pamela Anderson & Rick Salomon – She's 'Stuck In Her Old Ways,' Pal Reveals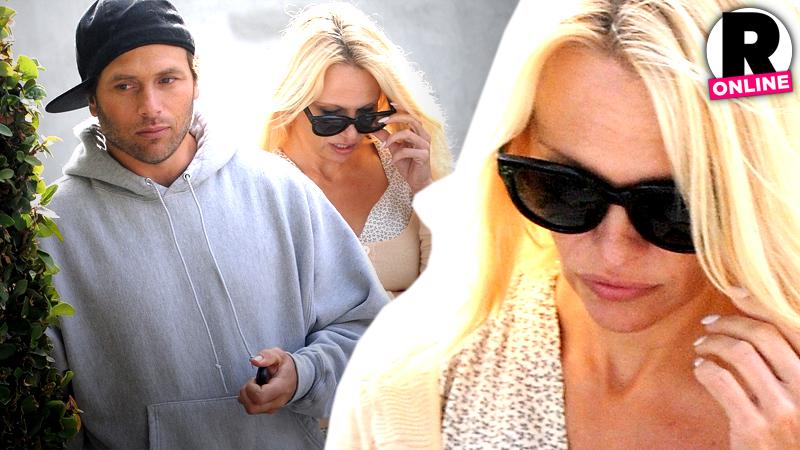 Pamela Anderson petitioned to throw out her divorce from on-again, off-again husband Rick Salomon, but a friend of the couple is telling RadarOnline.com exclusively the Baywatch beauty is "regretting her decision!"
"There was a brief honeymoon period after they got back together, but that quickly dissolved because of some major underlying issues in the relationship," a friend of the couple tells Radar.
Article continues below advertisement
"Pam has always been a free spirit, and Rick is more grounded," the source says. "He really doesn't like that she is going back to her sort of 'bimbo' look, as he calls it.
"Rick is very controlling and the cutting of her hair, the changing of her image wasn't exactly her decision."
In fact, the source says that Anderson's recent make-under for Notofu Magazine, was not her doing at all!
"Rick thought it was more sophisticated, but she really didn't like it," the insider says of the high-fashion photo shoot.
"She hated the pictures when she saw them!"
"Pam has been telling the general public that things are great between them and that there are no problems and that every marriage has its ups and downs," the source adds.
"Even her children have been telling her how much they like Rick and how overall good they think he is, but it seems like Pam just can't get out of her old ways," the pal reveals to Radar.
Anderson first married Salomon, a world-class poker player who gained stardom in Paris Hilton's sex tape, One Night In Paris, in 2007. The marriage was annulled after only two months, and in January 2014, she had announced that they were married again.
She was previously married to Kid Rock and rocker Tommy Lee, whom she has two sons with - Brandon Thomas Lee, 18, and Dylan Jagger Lee, 16,
Do you think that Pamela Anderson should stay with Rick Salomon? Let us know in the comments!