Exclusive
Making It Work! Pamela Anderson Petitions To Call Off Divorce From Rick Salomon – 'He's The Best Thing For Her,' Says Pal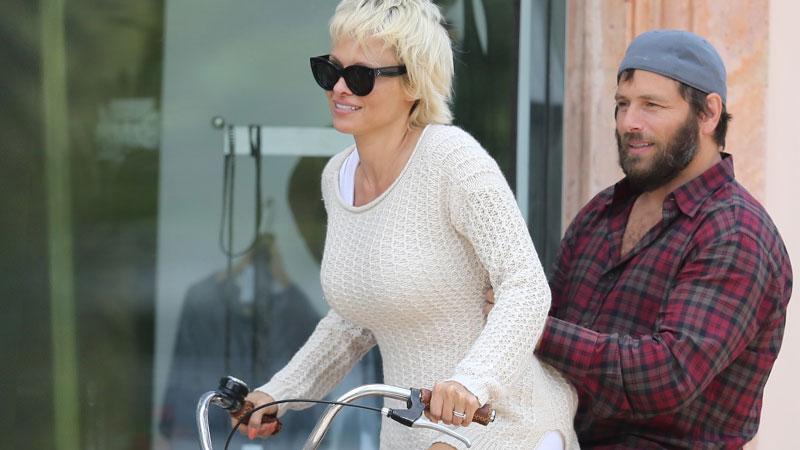 Pamela Anderson has decided to stay with on-again, off-again husband Rick Salomon. Again. Anderson filed for divorce from Salomon in July, but petitioned the Superior Court of California today to have her divorce dismissed and those close to Anderson tell RadarOnline.com that it is for good reason!
"He is the best thing for her," a source close to the Baywatch beauty tells RadarOnline.com exclusively. "Rick encourages Pam to stay on the straight and narrow. No man has ever had such a positive effect on her."
Article continues below advertisement
The news of the dismissal comes as the newlyweds have not been photographed together in almost a month and Anderson has been seen out late at night looking worse for the wear.
But according to the source, "Rick is trying his best to be patient to work it out with her," the source adds.
In addition, RadarOnline.com has learned that Anderson's children, Brandon, 18, and Dylan, 16, are pressuring the pair to go the distance.
"Pam's kids love Rick," the source says. "She's always been close to her two sons and she takes their opinion very seriously."
"She recently had lunch with her son Brandon and he was so upset that they were breaking up, Pam called Rick and resolved their differences almost immediately after," the source tells RadarOnline.com. "Pam's sons told her that they feel like a real family unit with Rick and they don't want to lose that stability."
Do you think Anderson and Salomon's relationship will last? Let us know in the comments!