Exclusive
Pamela Anderson's Sons 'Very Happy' She Married Rick Solomon, Growing Closer To Stepdad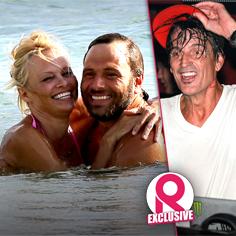 Pamela Anderson's sons, Brandon and Dylan, are very happy their mom married Rick Salomon for a second time and are building a quality relationship with him — as the pair grow apart from their rocker dad, Tommy Lee, RadarOnline.com has been told
On Tuesday night, Pam and her sons were spotted out to dinner with Rick at Crossroads Kitchen in West Hollywood, Calif.
Onlookers tell RadarOnline.com that "Pam was absolutely glowing and was having a great time with her sons and Rick -- there was a ton of laughter from their table."
Article continues below advertisement
The teenagers are currently home on a break from their boarding school, a source close to the '90s icon said.
"Pam loves having the boys at home for their short break: It's given the Dylan and Brandon to spend more time with Rick," the source said. "Rick has always been a presence in their life because of his friendship with Pam.
"She was always extremely careful about the men she would bring around them as they were growing up."
Though their dad, Tommy Lee, remains a figure in their life and loves his children, a source said, the children are much closer to their mom.
The source said: "Pam raised them on her own; Tommy Lee would pop in and out of their lives. Pam's greatest accomplishment in her life is those boys. She loves them so much and is truly a great mom."
Pam and Tommy Lee "are on fairly good terms," the source said.
Article continues below advertisement
"She keeps him updated on how the boys are doing in school, and always encourages him to call them at their school," the insider added, but "Tommy Lee is often just living in his own rock & roll world."
Salomon and Anderson married for the second time several months ago.
The pair first wed in 2007 just a few years after Salomon costarred with Paris Hilton in that infamous, yet highly profitable, sex tape.
That marriage lasted only 10 weeks, and was officially annulled on Mar. 24, 2008 but Anderson and Salomon remained friends during the years since. They began dating again last year with Anderson telling Ellen DeGeneres in October that they were "best friends … with benefits."