Chop Chop! NBC Golden Boy Matt Lauer Regularly Helicoptered Out To The Hamptons, As Part Of New Contract Terms With Network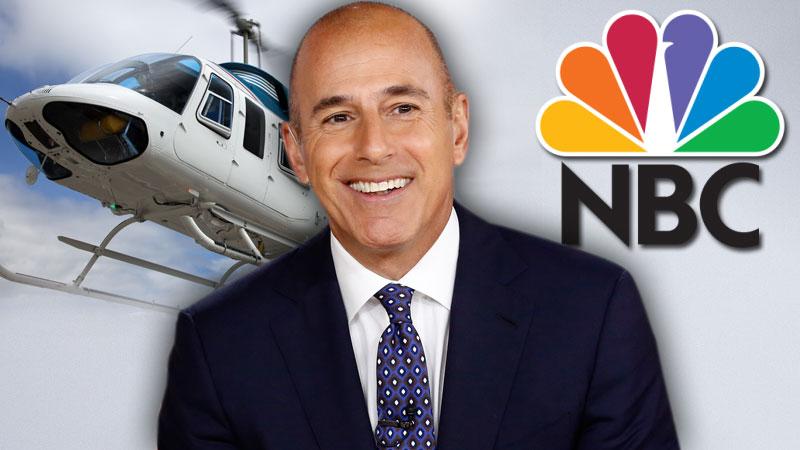 NBC executives, looking to satisfy Matt Lauer after a few bumpy years in their ratings battle with Good Morning America, are paying for a helicopter to take him to and from the Hamptons "so he can spend more time with his family," RadarOnline.com has learned.
"NBC News chiefs want to do everything to keep Matt happy," an insider told the NY Post of the transportation stipulation in the contract extension the veteran inked with the network in June, in which Lauer will collect $20 million annually through 2016.
Article continues below advertisement
Network execs "believe TODAY has turned a corner and he is the key to its continuing success," sources told the paper, adding that the handsome host files back and forth from the New York City to the ritzy East Coast enclave as many as three times a week, in copters from companies such as Liberty, HeliFlite and Blade.
A TODAY spokesperson implied that it wasn't that often, telling the paper that "on rare occasions, Matt will fly home, but most of the time you'll find him stuck in traffic on the Long Island Expressway with everyone else."
MORE ON:
Good Morning America
Lauer, who lives in the Hamptons all year long, cleared up misconceptions about the well-heeled area speaking to TODAY co-star Hoda Kotb in a Hamptons magazine piece.
"I think the image that people have is that it's all polo fields and cocktail parties," Lauer said. "We have a painfully-normal existence out here, and I think some people would be rather shocked by that.
"It is very much small-town America — it just happens to have a reputation and a name like the Hamptons," he said of the area, which also boats celebrity residents such as Jerry Seinfeld and Howard Stern.