Snubbed! Matt Lauer Says 'America's First Family' Is 'Bullsh*t' After He's 'Banned' From Katie Couric's Intimate Wedding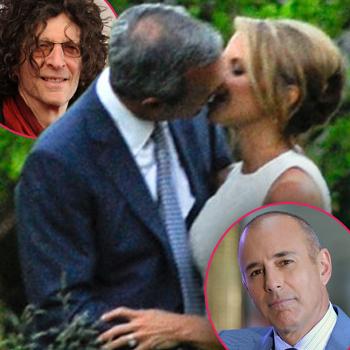 After he was snubbed from the invite list of Katie Couric's weekend wedding, Matt Lauer, speaking with Howard Stern Tuesday, joked that NBC's former motto of the TODAY cast being America's First Family "was just bullish*t, apparently!"
"You're not kidding!" the King of All Media told the host, who did not make the cut of 50 invitees to see his former morning show running mate exchange vows with John Molner this past weekend at attorney Gerald Lefcourt's Southampton home.
Article continues below advertisement
During his brief appearance with Stern, Lauer and the radio legend joked how they were plotting to "crash" the wedding disguised as waiters or pest control workers, but it wasn't meant to be.
Watch the video on RadarOnline.com
youtube
Lauer said he even consulted with his producers from TODAY, but the idea was promptly shot down under the guise that both men would look horrible breaking up the elegant occasion with schtick.
While Couric's one-time NBC boss Jeff Zucker did not get an invite to the proceedings, some in the broadcasting business, such as Dan Abrams (ABC) and Monica Crowley (Fox) were invited to, and attended, Couric's wedding.