Kim Kardashian Slams Katie Couric For Talking Sh*t, Calls Her A 'Fake Media Friend'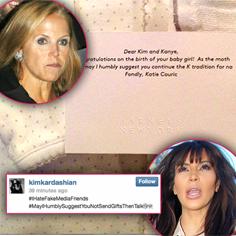 Does Barneys New York take returns?
Kim Kardashian was anything but thankful for a baby gift she received from talk show host Katie Couric and displayed her anger by posting a photo on her social media account, calling Katie a "fake media friend" who talks sh*t!
"#IHateFakeMediaFriends," Kim captioned the photo she posted on Friday of baby pajamas sent to her by Katie.
"#MayIHumblySuggestYouNotSendGiftsThenTalkSh*t."
Article continues below advertisement
Kim's shocking and straightforward message to Katie is in response to the note that the journalist attached to the baby gift — which was cut off by Barneys, but the message rang through loud and clear.
"Dear Kim and Kanye," Katie wrote.
"Congratulations on the birth of your baby girl! As the moth… And may I humbly suggest you continue the K tradition for na…"
Katie's hint in the note that Kim and Kanye should use a 'K' name for their daughter were ignored and the couple opted for North West.
Thoughts? Sound off below…