Lyle Menendez Living As A Gay Man In Prison, Jail Mate Claims – Wife Rebecca Sneed Is 'Hysterical' Over News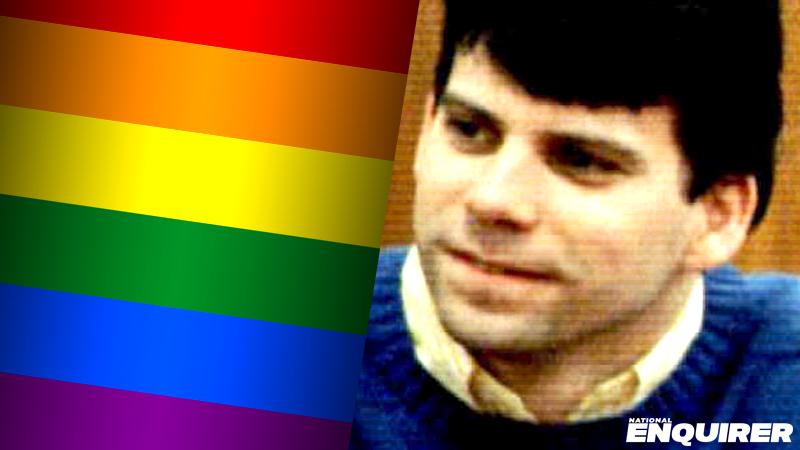 Serving a life sentence for the gruesome shotgun murder of his parents with his brother, Lyle Menendez has found himself feeling lonely while putting in his time. So lonely, in fact, that former inmate Eugene L. Weems has revealed to The National Enquirer that Menendez is allegedly living a double life in prison as a gay man!
"Behind these prison walls he was considered a coward – and a rich gay boy," Weems confessed to The ENQUIRER.
Article continues below advertisement
But no one is more shocked than the killer's wife, Rebecca Sneed, who Weems claimed "was hysterical – she didn't know he was gay.
"She was talking about divorcing him, and he told her I was lying," he added.
Menendez, who murdered his parents on Aug. 20, 1989, wanted to collaborate on writing projects with Weems, who had already published several books while service a 20-year sentence. Author of Bound By Loyalty, Weems also revealed that he found out that Menendez was gay because of a suggestion for another book.
"Lyle suggested I should also speak with his lover about participating in a book for at-risk youth," the convict-turned-author told The ENQUIRER. "What do you mean 'your lover?'" Weems asked him.
"He noticed the confused expression on my face, and before I could inquire into what he just said, he quickly corrected himself and said, 'You might want to talk to my celly (cell mate)."
According to Weems, Lyle's alleged boyfriend in California's Mule Creek State Prison is an ex-gang member named Chino. He stands at 5-foot-8 and is a "handsome Hispanic man with an athletic build."
MORE ON:
The National Enquirer
Article continues below advertisement
But Menendez's slip of the tongue wasn't his only giveaway – Weems also noticed him getting cozy with the alleged boyfriend.
"One day I looked in Lyle's cell, I was shocked to see him lying in a bunk, hugged up with Chino," said Weems. "He quickly hopped up once he saw me standing at his cell door. He began apologizing to me and asked me not to say anything about what I had seen."
But the former prison mate didn't keep the killer's secret. He published a book about Menendez, Prison Secrets: The Untold Truths About One of America's Most Notorious Murderers, that included his alleged gay relationship.
Menendez's wife of 11 years allegedly lost it. The animosity eventually became too much to handle between the prison mates, so the parent killer requested to be moved to a different unit.