Oscar Pistorius Trial: Friend Of Reeva Steenkamp Says Accused Murderer Made 'Extremely Disturbing' & 'Sinister' Snipe At Her — Inside The Courtroom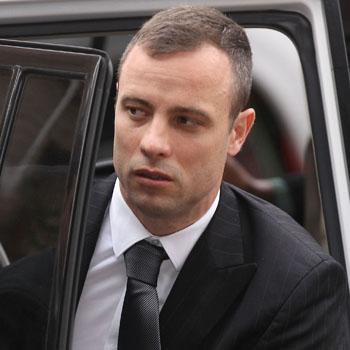 Kim Myers, a friend of the late Reeva Steenkamp, claims that Oscar Pistorius fired off a "sinister" remark in her direction during a break at South Africa's Pretoria court in Tuesday's proceedings, asking her, "How can you sleep at night?"
The double-amputee runner refuted the claims, as he said he hadn't addressed Myers, or any of her relatives on hand for the his ongoing murder trial, in weeks.
Attorney Ian Levitt said that his client was "shocked" by the statement, which was made in an "extremely disturbing" manner.
Article continues below advertisement
"It's important to confirm this," Levitt told the AP. "It was in front of witnesses — journalists have witnessed this."
The lawyer said that while he lodged a complaint to South Africa's National Prosecuting Authority, authorities from the organization said they would not follow up on the incident.
The 27-year-old runner's lawyer said that Pistorius "denies that he said it."
The trial was off Wednesday, but slated to continue Thursday.
Watch the video on RadarOnline.com
ABC US News | ABC Business News
As we previously reported, should Pistorius be convicted of premeditated murder, he could be sentenced up to life with a 25-year minimum sentence. If convicted of murder, he could face up to 15 years in custody.