Murderer Jodi Arias Blasts Howard Stern Wack Pack Flunky From Behind Bars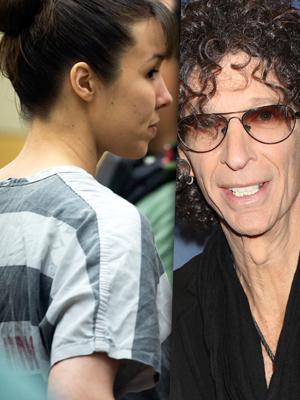 Article continues below advertisement
"She's smart she uses big words," Ed told Howard 100 News about the murder's literary skills. Arias, a high school dropout, spoke frequently on the witness stand about her alleged high IQ.
Keeping her finger on the pulse of pop culture even while incarcerated, Arias tells Ed that she is furious that he is sharing their correspondence on the air.
"Ed , did you post my letter to you on line and did you go on the Howard Stern show?" he tell Jon Lieberman she wrote to him and then she quoted Donald Trump, telling Ed: "I like Howard Stern, but if so you're fired."
Arias seemed to get over her anger at Ed, in a subsequent correspondence telling him that he could actually visit her in jail.
"Take care my friend, tell Howard I said 'What's up?'" Ed reads from her letter, and then says she is welcoming to Arizona to see her in jail.
"You're welcome to visit but I need advanced notice," Arias wrote to the Wack Packer.
Arias' retrial for the sentencing phase is scheduled to begin on September 8 2014.