'Monster' Jodi Arias' Trial Date Set For February, Reveals Travis Alexander's Brother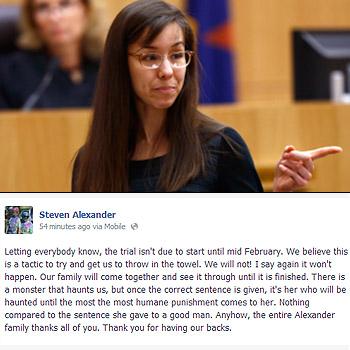 Travis Alexander's family is still searching for justice from convicted killer Jodi Arias, and his brother has revealed that the sentencing trial for the woman he calls a "monster that haunts us" will begin in February 2014.
An Arizona jury found the excommunicated Mormon guilty of first degree murder for stabbing Alexander 29 times, slitting his throat from ear to ear and shooting him in the face. However, they deadlocked on her sentence and a mistrial was declared.
Article continues below advertisement
Arias remains in the Estrella Jail in Maricopa County awaiting her retrial, which she has fought hard to have pushed back, but Alexander's brother Steven has revealed the date for her next trial.
"Letting everybody know the trial isn't due to start until mid February," he wrote on Facebook, shared by the Justice for Travis page.
"We believe this is a tactic to try and get us to throw in the towel," he said about the situation, but vowed that the family, who were in the courtroom every day during the trial, would continue to seek the death penalty for Arias.
"We will not! I say it again it won't happen. Our family will come together and see it through until it is finished."
Alexander's brutal murder details were showcased by prosecutor Juan Martinez during the 2013 trial and his brother slammed the woman who did the killing.
"There is a monster that haunts us, but once the correct sentence is given, it's her who will be haunted until the most humane punishment comes to her. Nothing compared to the sentence she gave to a good man."
Martinez has given every indication that he will seat another jury for the sentencing phase trial despite Arias' attempts to thwart his efforts.
Steven concluded his note saying: "Anyhow, the entire Alexander family thanks all of you. Thank you for having our backs."