Exclusive
Family Feud Over? Lauren Manzo Hints She's Inviting Estranged Aunt Dina To Her Wedding Despite Tensions — Plus All The Details Of Her Big Day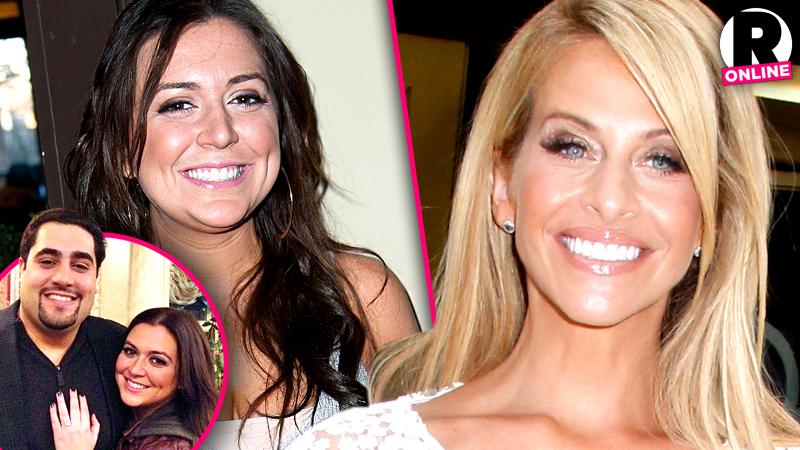 Although The Real Housewives of New Jersey star Dina Manzo has been in an epic feud with her former co-star and sister Caroline Manzo for over a year, they might be ready to put aside their differences for the sake of their family. During an interview with RadarOnline.com regarding her upcoming nuptials, Caroline's daughter Lauren Manzo revealed that she plans on inviting her whole family to her wedding to Vito Scalia next year, despite any bad blood.
Article continues below advertisement
"We're going to invite everyone in the family," Lauren confirmed to Radar.
But even if Dina decides to go, it won't likely be a cause for drama because there will be plenty of guests in attendance.
"We haven't sent out invites or save the dates yet," Lauren said. "But the engagement party was over 200 and I kept it small. I'd be shocked if we were able to keep it under 400 for the wedding."
"I really don't want a big wedding but I really don't have a choice," she said.
With little less than a year to go for her planning, however, the guest list is actually the least of Lauren's concerns.
"It's next summer," she said. "We're not saying when exactly. I was just told not to. But it's smack in the middle of the summer."
In fact, Lauren has left much of the planning up to her father, Albert Manzo, who runs The Brownstone, a reception hall and catering facility in Paterson, N.J.
Article continues below advertisement
"I haven't done much planning," she said. "I'm leaving it with my dad."
Lauren is more excited about the idea of finally being able to move in with her soon-to-be husband.
"We don't live together," she said. "We're not allowed to sleep in the same bed. We're not allowed to go on vacation together. So I'm more excited for him to be my husband and my life than for the wedding."
But while her dad is planning the wedding and Lauren hasn't had to worry about many of the details, she has handled some of specifics like the dress.
"I did get my wedding dress from Vera Wang," she said. "It's a custom piece. I really wanted a gown nobody else has. I got it in August."
"I wanted a giant princess dress and it's definitely a giant princess dress," she said. "It's very simple, but the drama of it with the skirt makes it huge. Vera is the only one in my opinion who could do that princess style that I wanted."
"My whole life, I dreamt of having a Vera Wang gown," she added. "Sure enough, it was it."
Article continues below advertisement
But while Lauren made a special trip with her mom to Vera's shop, she didn't get to meet the famous designer.
"I didn't even think of it," she insists. "I've been very adamant that we're on T.V., but we're normal people. At the end of the day, it's just reality TV. I'm not Jennifer Aniston!"
Lauren is so down-to-earth that she is even considering doing her own makeup for her big day like Kate Middleton did — but her mom may sway her to do otherwise.
"I said to my mom, 'I may do my own makeup because that's what I do for a living,'" she explained. "She's like, 'No! You're going to be so stressed. You can't do you're makeup yourself. We have to find somebody.'"
"I'm definitely not going to do my own hair because I'm challenged when it comes to mine," she admitted. "I can't even blow out my own hair."
And they will probably need all the help they can get because Lauren has a very large bridal party, including two maids of honor.
Article continues below advertisement
"I have 10 bridesmaids," she said. "I have so many cousins and I'm close to all of them and then I have friends that I've had since I was a baby. I have three to four friends in it."
Those girlfriends won't be planning an over-the-top bachelorette bash, however, since Lauren says she'd rather go on a simple vacation with her besties.
"It probably won't go till the spring," she said. "I'm not a huge party girl. I'd like to maybe go away for the weekend. Maybe do the Bahamas or Miami or something like that. I would like to do an island where we can hang out and do drinks by the pool."
Fiancé Scalia, meanwhile, won't be going doing the casino/club route either for his bachelor party.
"Vito doesn't want to do Vegas either," she said. "He wants to go to the Kentucky Derby with my brothers."
And when they finally get to vacation together as husband and wife, Lauren is dreaming of another tropical trip.
"I really want to go to Hawaii," she said. "I want to look forward to that right after the wedding."
So will Manzo fans get to follow Lauren journey on the silver screen?
Lauren isn't sure that her wedding will be filmed for another season of Manzo'd With Children.
"With Manzo'd With Children, we already filmed it this summer," she said. "So we'll see!"