Irretrievably Broken: Caroline Manzo Vetoes Teresa Giudice's Invite To Daughter Lauren's Wedding -- 'She's No Longer A Part Of Their Lives,' Reveals Pal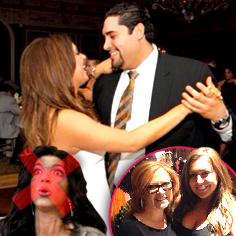 As former Real Housewives of New Jersey star Caroline Manzo's daughter Lauren prepares to tie the knot, RadarOnline.com has exclusively learned which former co-stars will be invited, and who will be shut out: And as for Teresa Giudice, fuhgeddaboutit!
Lauren will say "I do" to longtime boyfriend Vito Scalia in 2015 – with a reception held at the family business The Brownstone – and Radar has learned legally troubled Giudice will not be present.
Article continues below advertisement
"Caroline doesn't have a relationship with Teresa any more," a Manzo pal told Radar. "They ended things on good terms, but they were never really friends. Teresa just isn't in their lives anymore."
"Why would Lauren invite someone she hasn't spoken to in over a year?" the source continued. "She and her mom have no relationship with Teresa. It isn't rude. I mean, would you invite someone to your wedding that hasn't spoken to you, or even congratulated you on your engagement?"
As Radar previously reported, Dina was noticeably missing from Lauren's engagement party earlier this month. Instead, her reality TV aunt and uncle, Jacqueline and Chris Laurita partied with the family, alongside Kathy and Rich Walike and Melissa and Joe Gorga.
"As far as the Gorgas and Wakiles being invited, they both texted and called Lauren right the night she got engaged," the source revealed.
When Radar approached Lauren about her guest list, she had no comment.