Lauren Manzo Reveals 20 Lbs Slim-Down, Vows To Drop 25 More By Summer!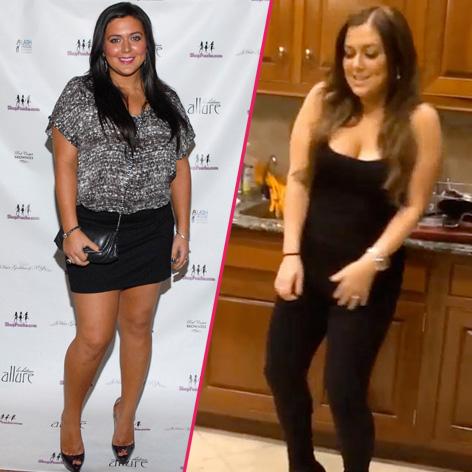 Lauren Manzo – the daughter of former Real Housewives of New Jersey star Caroline Manzo — is slimming down for her upcoming wedding and has exclusively told RadarOnline.com she has already dropped 20 pounds since January!
"I'm exercising five times per week, including free weight training and I squat a lot. I actually work to complete 100 additional squats per day on top of the other activities I do in the gym. I put a butt workout into every work out I do," she revealed to Radar.
Article continues below advertisement
Lauren, who underwent a breast reduction last year and a Lap-band procedure in 2012, is adapting a healthier lifestyle and obviously loving her results.
"I've been making sure I eat breakfast everyday… I also eat lots of protein and vegetables, and I stay away from the salt. Also, I cut out Splenda completely and drastically reduced my wine intake to basically none, which I think had a lot to do with the weight coming off so quickly," she said.
Despite her slim down, Lauren said she hasn't reached her goal weight – yet.
"A lady never reveals her actual weight… but I'd actually like to lose more like 10-15 pounds by April. My engagement party is in April, and I want to wear this cute dress I've got, so I'm working to lose as much as I can by that event. I still want to lose 25 pounds and hopefully will have that accomplished by the beginning of summer," she tells us.
Article continues below advertisement
With her goal in mind, she is ready to flaunt her slim figure as she slips into her dream wedding dress and reveals she'll "start actively looking at dresses and going to showrooms beginning in May."
Lauren got engaged to her longtime boyfriend, Vito Scalia, in November – and the pair plans to wed in 2015.
And while the cameras weren't rolling when Scalia asked for Manzo's hand in marriage, the 25-year-old Bravo beauty said she wasn't concerned with capturing footage for the show Manzo'd With Children and is just excited for fans to see her family's Bravo spin-off.
"It was a lot of fun taping. I think people will see a different side of my family – those Manzo antics are in full effect. It's a look into our lives when we're not surrounded by so much drama, though we are a family of FIVE and have lots of extended family, so someone is always on someone else's bad list," she teased.
Thankful to have the RHONJ drama behind them, Lauren admitted her family is having the time of their lives.
"We're really enjoying our lives right now. It's amazing now, when we look back at our lives, we truly appreciate our experiences, yet are so fortunate to have the opportunities that have come our way since leaving the show," she said.
They Make How Much?! The 23 Highest-Paid Reality TV Stars
"We're enjoying spending quality family time together and are looking forward to what the future holds."