Booted For The Booty! Guest At Australian Hotel Complains That Facility's Gym Was Cleared Out To Make Way For Kim Kardashian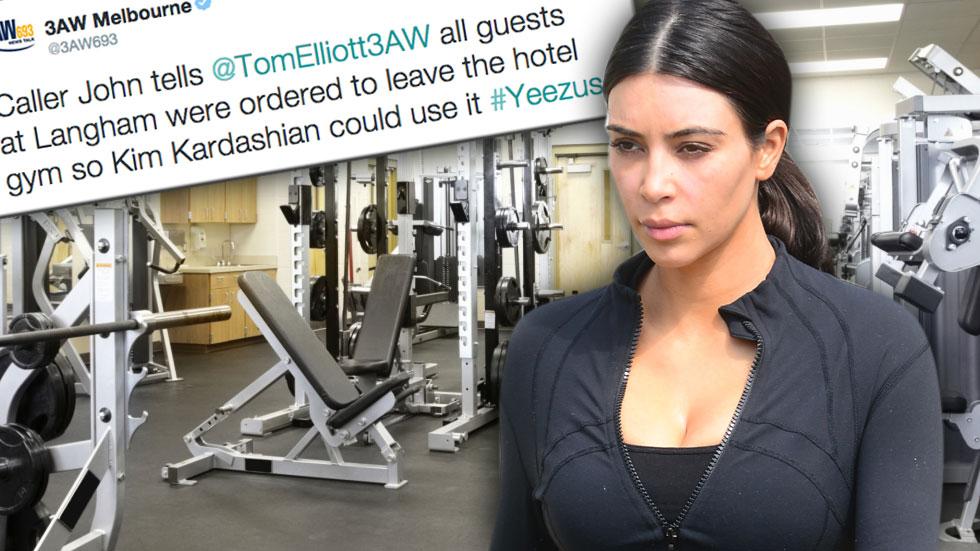 Kim Kardashian, currently in Melbourne, Australia accompanying her touring husband Kanye West, had the Langham Hotel (where she's staying) clear all guests out of its' gym Tuesday so she could have the facility for herself and her inner circle, a guest at the swanky establishment told a local radio station.
The guest, who identified himself as "John," complained about to radio station 3AW about the snub, in which he felt displaced by the 33-year-old celebrity and her entourage.
Article continues below advertisement
The station tweeted, "Caller John tells @TomElliot3AW all guests at Langham were ordered to leave the hotel gym so Kim Kardashian could use it #Yeezus."
Another individual named Scott Gumbleton, presumably at the five-star facility at the time of the gym incident, tweeted, "Hey @KimKardashian you & your goons just booted out users of the gym at the @Langham_Melb. Probably no more room after your rear end enters … I don't think there was enough room in the gym for guests at The Langham AND @KimKardashian's rear end."
The news comes on the heels of RadarOnline.com's report that the first family of reality TV has been extra careful as of late after being on the receiving end of menacing comments, resulting in an FBI raid of a hotel room at the Beverly Hills Four Seasons last week of a woman who was questioned in connection with of threats made against Kim's mother Kris Jenner and other relatives.
During the tense time, Kim and Kanye, 37, have "generously offered — actually insisted — that they pay for … added security" for Kris at her home, an insider told Radar.