Very Kim-Portant Person! Read Kim K's Outrageous Demands For Interviewers — Pre-Approved Questions, Camera Angle Restrictions, Strict Time Limit & More!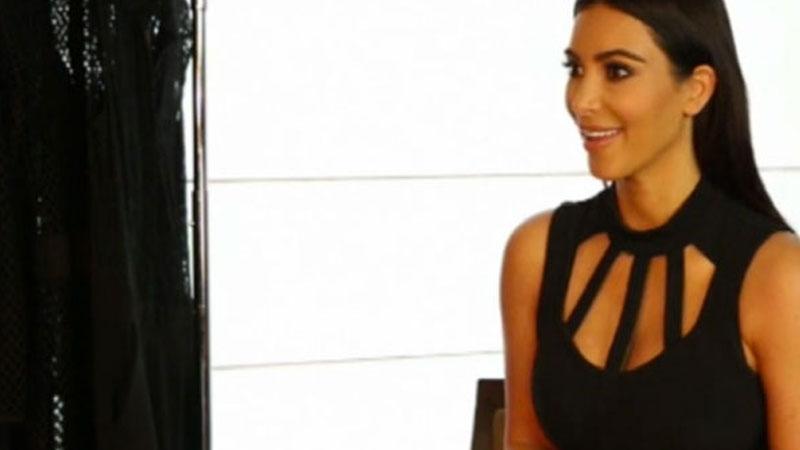 Kim Kardashian's world is a carefully orchestrated sideshow run on a tight schedule that's regimented right down to the minute.
According to Australian journalist Melissa Hoyer, who recently interviewed Kardashian, the reality star's "real life and celebrity life are one big merge and at this stage, she certainly seems to have it all under control."
That means a team of handlers carefully manage Kardashian's precious time "with military precision."
Article continues below advertisement
"I was greeted in the lobby of the super smart Park Hyatt Hotel in Sydney by a posse of perfectly pleasant and poised PR peeps," says Hoyer. "And a security detail."
Hoyer was scheduled to chat with Kardashian for exactly eight minutes beginning at 1:24 pm. She reveals that the busy reality star was granted "about a minute of 'Kim' time in between each" interview with reporters to collect her thoughts.
Before Kardashian would begin her on-camera chat, she wanted to make sure she looked her best. "She asked the camera guy to shoot from the 'waist-up' after she had seen the monitor shot of herself in front," reveals Howser.
As RadarOnline.com has reported, Kardashian has been extremely self-conscious about her weight, and she's on a strict diet that helped her shed 30 pounds in just two weeks. The suspicious amount of weight loss comes on the heels of Kardashian's strict exercise routine of boot camp classes, swimming lessons and butt crunches.
Article continues below advertisement
Once Kardashian was ready to roll, Hoyer could only use pre-approved questions.
When the journalist asked the 33-year-old workaholic mom if she ever has any free time, she answered, "This is my downtime."
There was no room for error with Kardashian's other interview answers. "Kim is obviously wary of how she answers every single question — you can tell she never wants to be too specific about people or places or times — which seems ironic considering her life IS a reality TV show," snipes Hoyer.
But the Australian does say there was a single moment that Kardashian didn't seem so robotic. "Perhaps the most telling sign or a glimpse of the 'real' Kim is when I suggest she seems genuinely happy in her own skin," explains Hoyer.
"I think so, everything seems exactly where it is supposed to be,'' Kardashian gushed.
With that, Hoyer's time was up and the Keeping Up with the Kardashians star enjoyed her minute of downtime by checking her phone.
Hoyer's thoughts on Kardashian and her well-oiled media machine?
"I really like her. All eight minutes of her," she jokes.