Exclusive
Kim, Miley & Jen's Mane Man Chris McMillan Is Convicted Felon! The Dark Past & Drug Arrest Of Chris McMillan Exposed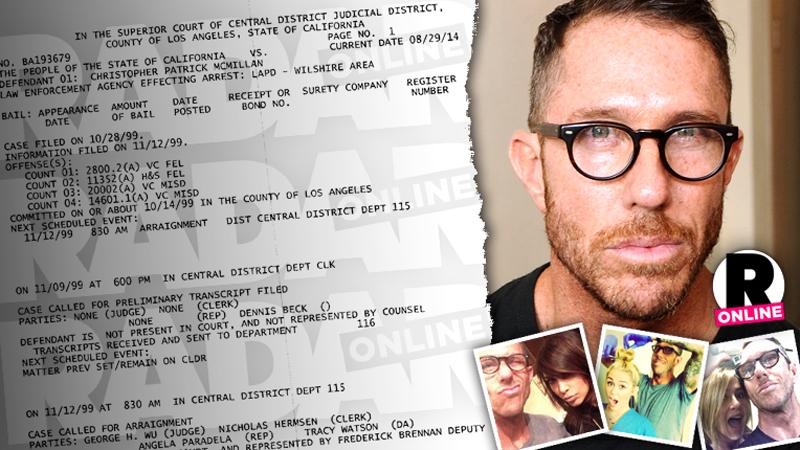 Celebrity hair stylist Chris McMillan is the mane man to such celebs as Miley Cyrus, Kim Kardashian, and Jen Aniston — whose infamous "Rachel' cut he crafted. But do those A-listers know the dark past of the man they trust with their tresses? RadarOnline.com can exclusively reveal that years after McMillan began working with Aniston, he was arrested for felonies involving drugs!
McMillan has admitted that when he crafted the "Rachel" in 1994, he was "stoned." Five years later, his drug habit caught up to him.
Article continues below advertisement
READ The Court Docs Exposing His Drug Bust
On October 14, 1999, in the Wilshire area of Los Angeles, he was arrested on four counts: felony reckless driving while evading an officer, felony transporting a controlled substance, misdemeanor hit and run, and misdemeanor driving with a suspended license.
McMillan plead not guilty to all charges, but entered rehab at L.A.'s Liberty House and submitted a letter from the organization to the court at his arraignment in November 1999. He later switched his plea to the guilty of felony reckless driving while evading an officer, and was sentenced to seven days in jail and three years probation. Having already served five days after his arrest, he was awarded two days for good behavior and avoided having to do more time. He paid a fine of $200, and agreed to be searched at any time during his probation period by a law enforcement officer, with or without a warrant. He was also ordered to complete his rehab program.
He also plead guilty to the controlled substance charge, but the court deferred the judgment on that pending completion of his probation, which was successful according to the latest filed court records.
All other counts were dismissed, and McMillan has since cleaned up his act.
"Chris has been sober for years," an insider tells Radar. "He's a real success story."
After creating Aniston's signature cuts over the years, he'd go on to give Cyrus her career-changing pixie, and did Kardashian's hair at her wedding to Kanye West.
Are you surprised at McMillan's dark past? Let us know in the comments!