The Wheels On The Bus Go Round & Round! Gwyneth Paltrow Ordered To Stop Taking Kids To School On Scooters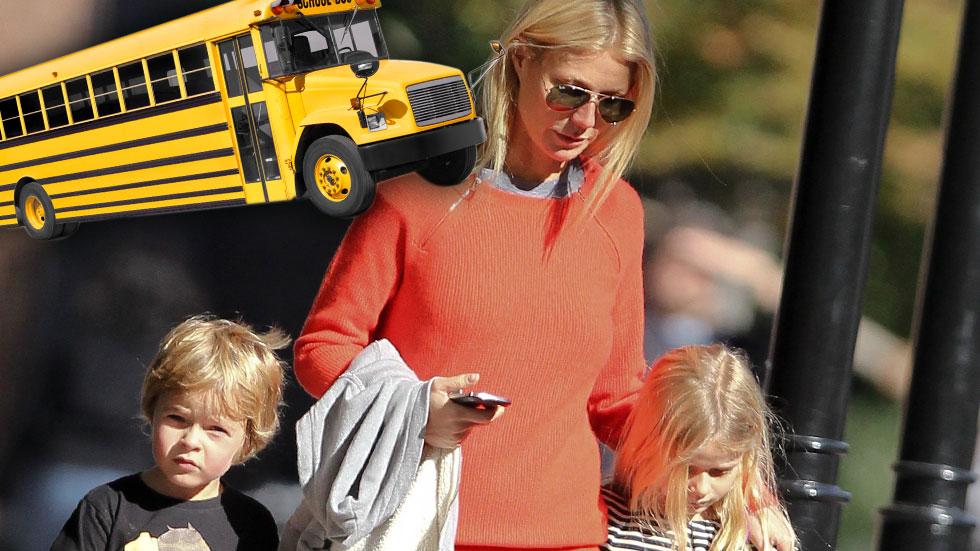 Gwyneth Paltrow's days of taking kids Apple and Moses to school on a Vespa scooter are over.
The Hollywood A-lister and her ex Chris Martin were told by officials, with the Los Angeles school that their kids attend, that they were barred from picking up and dropping off the kids on Vespa scooters, as they had been accustomed to.
"The scooters had been convenient for zipping around Los Angeles traffic, and dropping the kids off at school without having to wait with other parents and kids in the car-pool line," an insider told the NY Post.
Article continues below advertisement
The decree came in the wake of a caught-on-tape Sept. 2013 incident, in which the Country Strong singer, according to online reports, dangerously cut off an oncoming school bus.
"After Gwyneth was photographed on the Vespa pulling out in front of a bus," the insider told the paper, "school chiefs reprimanded her and said they'd rather she and Chris didn't bring the kids to school on scooters."
A Paltrow spokesperson told the paper that the story "is not true," as "it was last year that they would occasionally drive the kids to school on scooters," and "this year, the kids take the bus."
Paltrow herself confirmed that her two kids, Apple, 10, and Moses, 8, are indeed taking the bus to school this year.
Watch the video on RadarOnline.com:
youtube=https://www.youtube.com/watch?v=hZMgQEkVYm8&w=560&h=315
"They take the bus and then I pick them up at the bus stop — it's pretty cute," the Seven star said, speaking with Jimmy Kimmel earlier this month. "They feel very independent, it was great, they seemed really happy.
"They got off the bus, they were smiling, they had backpacks."