Renaissance Palaces & Luxury Hotels: Inside George Clooney & Amal Alamuddin's A-List Venetian Nuptials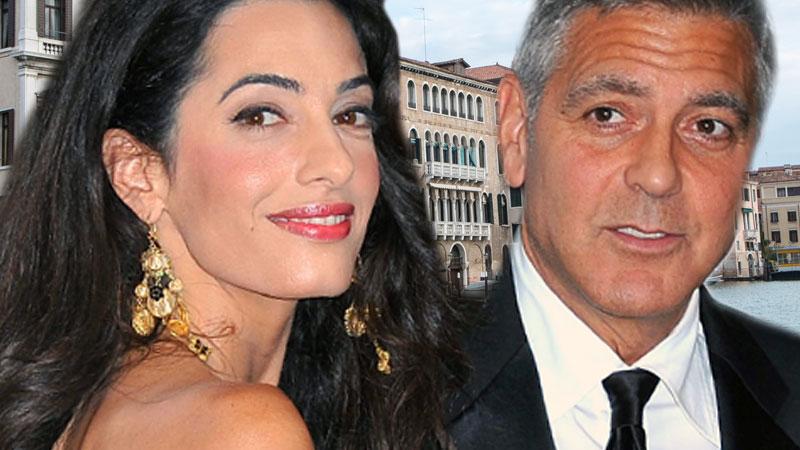 A week after George Clooney revealed he'll wed fiancee Amal Alamuddin in Venice, Italy, later this month, local newspapers are reporting juicy new details about the A-list nuptials.
According to Il Gazzettino, the Oscar winner, 53, will wed the hotshot lawyer, 36, on September 27.
The reception is expected to take place in the luxury Aman Canal Grande hotel, which is located inside 16th century palace Palazzo Papadopoli, while the ceremony will reportedly be held in the stunning 13th century Ca' Farsetti.
Article continues below advertisement
The couple has also entirely rented out the 24-room, seven-star Aman Canal Grande and the 79-room, five-star Hotel Cipriani for their swanky guests. Both hotels are fully booked from September 25 to September 29.
But apparently, the paper knows more about the wedding than the attendees!
"The invitations didn't give the location," a Los Angeles-based insider told the U.K.'s Daily Mail. "They just said to be at a private airfield where a chartered jet will be waiting to fly everyone to the venue."
According to The National ENQUIRER, Brad Pitt, Angelina Jolie and even President Obama are expected to attend.
On September 7, the actor and activist spilled the beans about his previously top-secret wedding location.
"I met my lovely bride-to-be here in Italy, whom I will be marrying, in a couple of weeks, in Venice, of all places," Clooney told the audience at the Celebrity Fright Night in Tuscany, Italy.
Alamuddin first showed off her 7-carat engagement ring, believed to be worth approximately $500,000, at London's Heathrow airport in May.