Deadmau5 'Will Not Be Bullied' By Disney,' Lawyer Vows In Response To Corporation's Attempt To Block Mau5head Trademark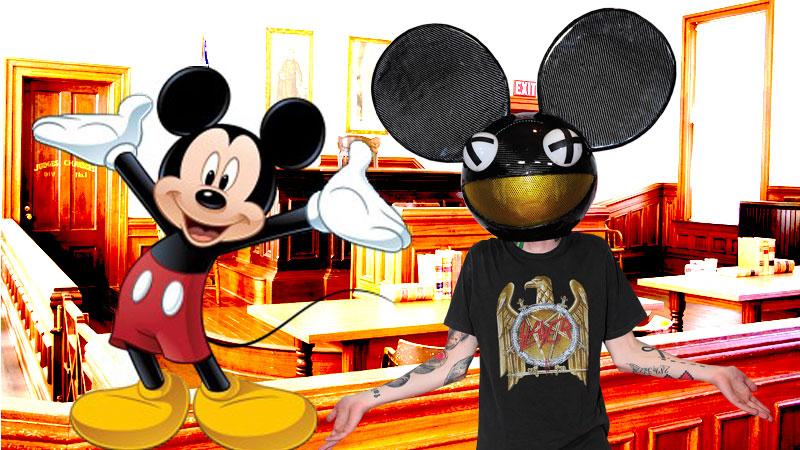 The legal team for deadmau5 has drawn a line in the sand in their budding legal battle with Disney, saying the acclaimed music-maker "will not be bullied … and is prepared to fight to protect his rights to his property" in their newfound litigation over his logo, which they claim could lead to confusion in the marketplace with their Mickey Mouse emblem.
Disney Tuesday filed a 171-page document trying to block deadmau5 from registering a trademark for his logo, called the "mau5head," in the U.S., despite the decade-plus the Canadian house music maker has been using it, without issue. (The DJ, who commands as much as $500,000 per outing, routinely wears a headpiece of his emblem during performances, and on his merchandise.)
Article continues below advertisement
The performer himself replied with a sense of humor about the grueling court battle that could follow, writing on Twitter that he "landed home to some interesting news: looks like Disney officially just filed in opposition of my trademark... lawyer up mickey."
He later added, "Disney thinks you might confuse an established electronic musician / performer with a cartoon mouse. That's how stupid they think you are."
Dina LaPolt, the 33-year-old's lawyer, said the timing of the corporation's opposition rings strange, after the electronic music DJ filed to register it with U.S. Patent and Trademark Office in June 2013.
"Given that the mau5head, and other identifying deadmau5 trademarks, have been used in the U.S. and around the world for almost a decade, we wonder why Disney is only now coming after deadmau5."
LaPolt noted that the emblem "is a registered trademark in 30 countries worldwide" — among them, Australia, Austria, Belgium, the Netherlands, Luxembourg, Bulgaria, Cyprus, the Czech Republic, Denmark, Estonia, Finland, France, Germany, Greece, Hungary, Ireland, Italy, Latvia, Lithuania, Malta, Poland, Portugal, Romania, Slovakia, Slovenia, Spain, Sweden, the United Kingdom, and Japan.