Exclusive
The Nightmare Continues: Porn Star Christy Mack Under Twitter Assault From Her Alleged Attacker War Machine's Brother — Calls The Beating Victim A 'Dumb' 'Whore' Who Should Be 'In Heaven'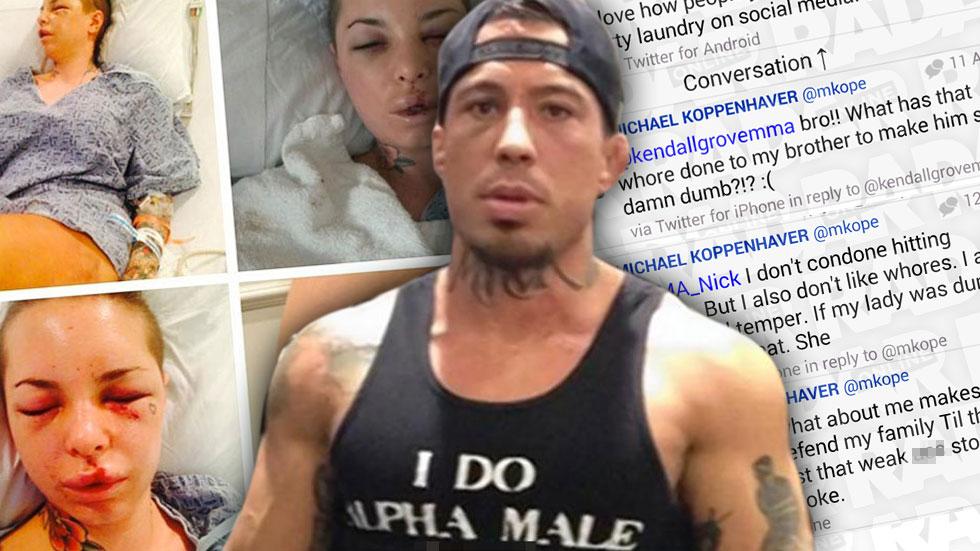 MMA fighter, War Machine is currently in a Las Vegas jail, after being charged with the attempted murder of ex-girlfriend, adult film star, Christy Mack. But RadarOnline.com has learned she is still living in fear — because she is being harassed on social media by his paramedic brother, Michael Koppenhaver.
War Machine has been charged with 32 counts of attempted murder, kidnapping, and sexual assault of his ex-girlfriend, Mack, who posted hospital photos of brutal injuries allegedly sustained in the attack. He has pled not guilty to the charges, and is being held without bail. But meanwhile, the brother of the former wrestler (born John Koppenhaver) has continued the virtual assault.
Article continues below advertisement
In a series of disturbing tweets beginning August 9, War Machine's brother, EMT Michael Koppenhaver, wrote to a fan, "dude. wtf?!? Why did he have to date that whore?! Why is he so dumb?"
"Bro that whore has ruined him forever. Like she didn't know what would happen if he came home to that bull**it," he continued.
On August 11, Michael posted another menacing and disturbing message, "She's lucky they are both alive. I can't believe they are alive. If my lady was that dumb, bye bye."
"I don't condone hitting women. But I also don't like whores," he continued. "I also have a bad temper. If my lady was dumb enough to cheat. She knows what would happen. But that's besides the point. The point is this all the terrible. Two terrible people. Both are idiots. I wouldn't have hit her. They would have been in heaven. Is that right? No. Is that reality. Yes. Lik,e use your brain."
According to Michael's Twitter profile he is a "emergency medical technician, Harley owner, the best friend you ever had. I am a strong supporter of the 2nd amendment and love my right to bear arms." His Twitter profile picture is a photo of himself with War Machine.
Article continues below advertisement
On August 8, while on the run from cops, War Machine said on social media, "I can't believe this...I must be cursed. I'm not a bad guy, I went to surprise my GF help her set up her show and give her an engagement ring and ended up fighting for my life. The cops will never give me fair play, never believe me. Still deciding what to do but at the end of the day, it's all just heartbreaking.
I only wish that man hadn't been there and that Christy and I would he happily engaged. I don't know y I'm so cursed. One day the truth will come out."
He allegedly attacked her and a male companion at her Las Vegas home.
Mack released a statement after the alleged attack and said, "He made me undress and shower in front of him, then dragged me out and beat my face. I have no recollection of how many times I was hit, I just know my injuries that resulted from my beating. My injuries include 18 broken bones around my eyes, my nose is broken in 2 places, I am missing teeth and several more are broken. After some time, the knife broke off of the handle and continued to threaten me with the blade. I believed I was going to die. He has beaten me many times before, but never this badly. He took my phone and cancelled all of my plans for the following week to make sure no one would worry about my whereabouts."
"I ran out my back door, shutting it behind me so the dogs didn't run inside to tip him off," she continued. "I hoped the fence to the golf course behind my house and ran to a neighboring house. Naked and afraid he would catch me, I kept running through the neighborhood knocking on doors. Finally one answered and I was brought to the hospital and treated for my injuries."
War Machine was arrested in a motel room in Simi Valley, California and was extradited to Las Vegas.