Exclusive
Threats & Debts! Vicki Gunvalson's 'Mad' Boyfriend Brooks Ayers Admits He Once Used 'Violence' Against Her During A Drunken Night Out, Reveals History Of Owing Thou$ands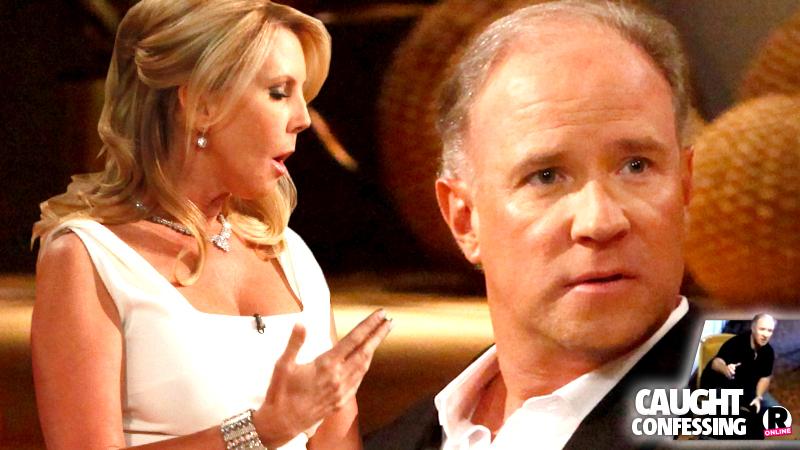 Vicki Gunvalson has been blindsided by the bombshell video of on-off boyfriend Brooks Ayers' sordid cheating confessions. But her heartache is about to get worse!
Listen! 'RHOP' star Wendy Osefo breaks down the "most intense fight in the show's history" in under 2 minutes.
The Real Housewives of Orange County's least popular cast member ever opens up about an incident where he used "violence" against his reality star girlfriend and admits he once owed thousands of dollars to the IRS in new video footage exclusively obtained by RadarOnline.com.
Article continues below advertisement
As RadarOnline.com has reported, the sleazy footage was filmed in a Las Vegas hotel room, by a business associate. In this latest leaked clip, Ayers begins by opening up with complaints about his measly income from RHOC.
"Well, it's a reality show and I have made jack compared to what Vicki makes," he whines in the footage. "I made $17,500 in the last two years. That's it."
WATCH The jaw-dropping confession:
And according to Ayers, he needs a lot more — since he has had the IRS and an angry ex breathing down his neck.
"I owe the IRS and I have an ex-wife who's at the trigger," he says.
"If I don't pay her on time, she is going to file a contempt of court and she's going to send me back to jail and that's the fact. I gotta pay. I'm current with her now as we speak."
Admitting he "was desperate for money," Ayers also claimed he owed about $10,000 in child support and "twelve to five thousand" dollars to the IRS. According to Ayers, his parents helped him get rid of the child support debt and he paid off the IRS, but he said he also owed Gunvalson about $5,000 to $7,000 for an American Express debt.
Article continues below advertisement
"I didn't grab her… in back of hair like that," he says, extending his left arm out palm open.
"I was mad and I was wrong… and that's the only source of violence they have seen me do. The only thing I have ever done with Vicki. When I just came out of this bathroom and we were in this place and I saw a guy grab her a**."
"And I came up and said, 'What the hell?!'" he continues, "And she said, 'It's not big deal.' And I said, 'Yes it is a big deal.' And I was wrong, there is never a right, wrong, or excuse to ever to touch a woman, particularly in public or private, ever! So I'll own that. But it was never a hit or a slap."
WATCH part one of the confession: