'You Decided To Be A D*ck!' Family Of Driver Fatally Hit By Tony Stewart Lashes Out At Racing Vet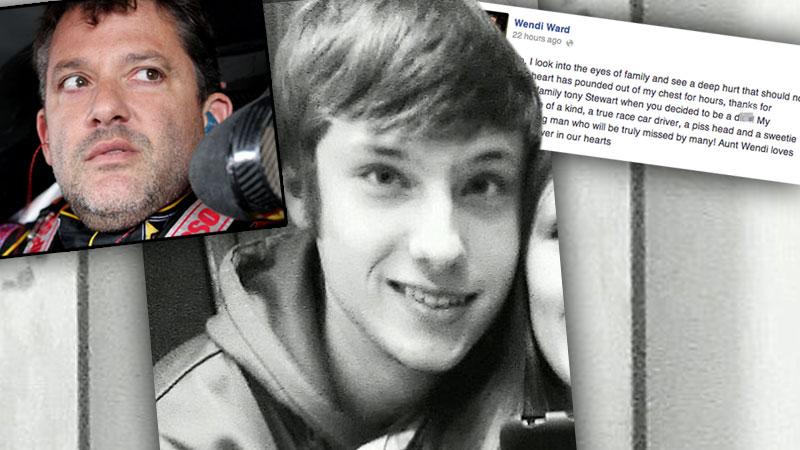 Relatives of Kevin Ward Jr., the 20-year-old auto racing prospect fatally mowed down by NASCAR stalwart Tony Stewart Saturday at New York's Canandaigua Motorsports Park, have taken the three-time champion to task for his actions.
The young driver's aunt posted to Facebook Sunday, "Thanks for thinking of our family Tony Stewart when you decided to be a d*ck!"
She called her late nephew, a native of Port Leyden, New York, "one of a kind, a true race car driver, a p*ss head and a sweetie all in one, a young man who will be truly missed by many!"
Article continues below advertisement
As we previously reported, in the incident that was filmed by a fan, Ward's #13 vehicle was swiped by Stewart's #14. Ward exited his car and began roaming the track, pointing at Stewart's car. When he approached closely, Stewart's car fishtailed and Ward was hit, with an onlooker bellowing, "Tony Stewart hit that guy!"
Ontario County Sheriff Philip Povero Sunday said that while criminal charges against Stewart could still be in the offing, the investigation has yet to uncover any ill intentions on Stewart's part in the deadly incident.
Empire Super Sprints race director and president Chuck Miller told USA Today that there was "no history with these two drivers," and that the exchange between the two was nothing more than a reflection of "the competitive nature of the game and the drivers around it.
"Any time Tony has raced with us, Kevin also raced. Tony's been good for us.'
The 43-year-old Stewart, who subsequently pulled out of a race Sunday, said in a statement, "There aren't words to describe the sadness I feel about the accident that took the life of Kevin Ward Jr."
"It's a very emotional time for all involved, and it is the reason I've decided not to participate in today's race at Watkins Glen. My thoughts and prayers are with his family, friends and everyone affected by this tragedy."