Exclusive
Cashing In! 'Housewives' Star Raked In Nearly $600K In 'Wardrobe' And 'Location' Fees – Read The Contract!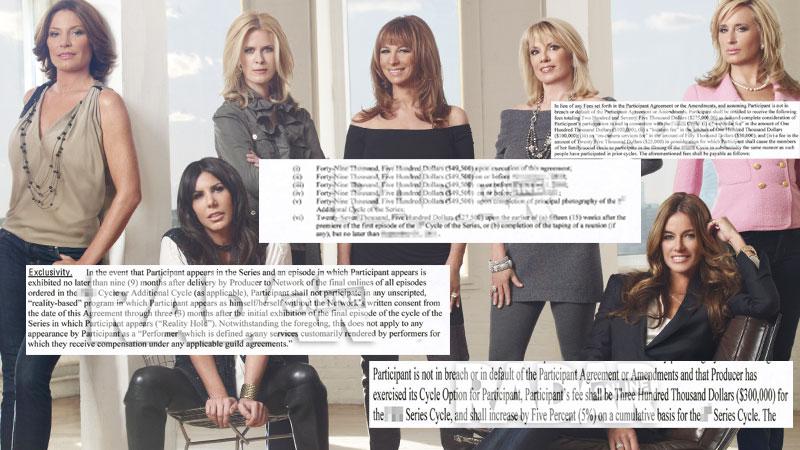 Reality TV is fraught with fakery, but one thing's for sure — its stars make real money! RadarOnline.com has obtained a contract for the Real Housewives franchise, and it proves that the leading ladies of Bravo are raking in serious cash. In one case, a star took in nearly $600,000 for just four short months of shooting!
According to a contract obtained by RadarOnline.com, the base salary for one anonymous housewife on a recent season was a whopping $300,000.
Article continues below advertisement
But that didn't even include all the perks of being on a hit TV show.
For example, the signed agreement states that in addition to the exorbitant salary, the star would receive separate fees to help create the illusion of a designer lifestyle, including a $100,000 "wardrobe fee" and another $100,000 for a "location fee."
As an extra incentive to bring the drama, the contract also mentioned a $50,000 "on-camera services fee."
And for catfights including the star's friends and family, there was an extra $25,000 thrown in to ease any embarrassment.
But this star didn't get all that loot at once: According to the contract, $49,500 was handed out in five increments over four months, with the remaining $27,500 in the bank 15 weeks after the season premiere episode, or after the reunion was taped.
And even though housewives have already been caught by RadarOnline.com staging scenes, the contract demanded the star continue to fudge the facts by "looping and dubbing" audio after filming.
But the big bucks come at a high price. According to the contract, this housewife was put on a "Reality Hold" — a ban from appearing as herself on a reality-based unscripted show until at least three months after the season wrapped — and even then she was asked to get permission from Bravo bosses.
Are you surprised at the terms of the contract? Let us know in the comments!