Racer Tony Stewart Goes Into Hiding Days After Deadly Crash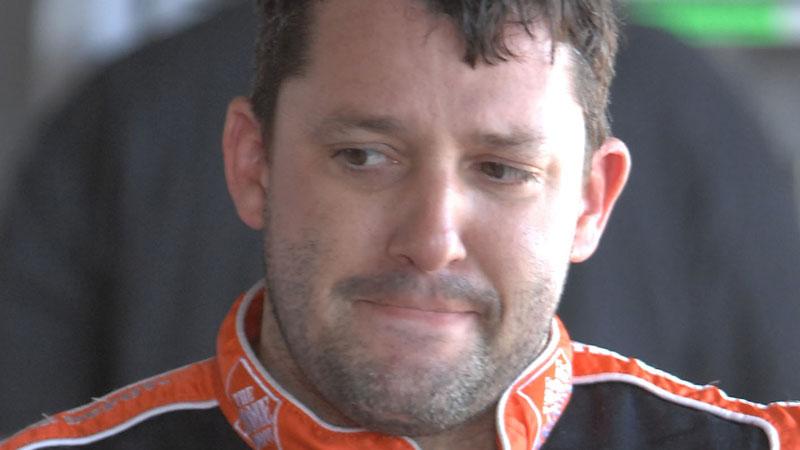 Just days after he killed fellow racer Kevin Ward Jr. in a shocking on-track crash, Tony Stewart has gone into hiding.
The NASCAR champion's private plane stopped in his hometown, Columbus, Indiana, on Monday. Handlers loaded new luggage, and then the plane flew out again, airport director Brian Payne told the U.K.'s Daily Mail.
"It was only here 10 or 15 minutes," Payne told the newspaper of the famous racer's $6 million Dassault-Breguet Falcon 50 aircraft. "I don't know whether Stewart was on board, but he certainly did not get off."
Article continues below advertisement
The 43-year-old's destination is unknown, as the plan cannot be tracked publicly. Stewart's spokesperson ambiguously said the star is "staying with friends."
During a race at the Canandaigua Motorsports Park in upstate New York on August 9, the pro struck and killed the 20-year-old Ward, who had gotten out of his vehicle after Stewart clipped him on the previous lap. The horrific incident was caught on video.
Though no criminal charges have been filed in what presently seems to be a tragic accident, Ontario County sheriff Philip C. Povero announced that the investigation into Ward's shocking death will continue for at least two more weeks.
"Investigators continue to seek witnesses, gather evidence and develop racetrack crash reconstruction," the official said.
As RadarOnline.com previously reported, Ward's family believes Stewart is responsible for his death.
Article continues below advertisement
"Thanks for thinking of our family Tony Stewart when you decided to be a d*ck!" the young driver's aunt posted to Facebook on Sunday.
"Tony Stewart was the best damn driver by far on the track that night," Ward's father Kevin Ward Sr. told The Syracuse Post-Standard on Monday night. "Why he had to go up as high as he did and hog my son, there's no reason for it."
Stewart, who said "there aren't words to describe the sadness I feel about the accident," has pulled out of all subsequent races.
"He is grieving and grief doesn't have a timetable," his spokesperson said.