'I Never Look Back,' Katie Holmes Says Of Time As Wife Of Tom Cruise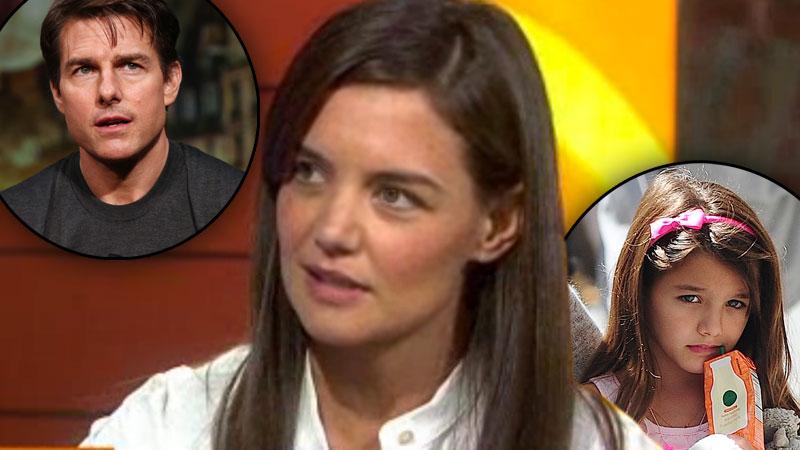 Katie Holmes, chatting with Matt Lauer on the TODAY show Wednesday, made it clear she's done living in the shadow of her former marriage to A-lister Tom Cruise.
"I never really look back," Holmes, on to promote her upcoming film The Giver, told Lauer. "I always … just approach life, I take it one day at a time, and I'm really excited where I am right now, and this movie."
"I've had some really wonderful creative experiences — I'm really excited about the future."
Article continues below advertisement
Lauer — referencing Holmes' Midwest upbringing in Toledo, Ohio — asked the 35-year-old actress if she's trying to replicate the peaceful childhood with Suri, her 8-year-old daughter with the Risky Business star whose coveted first picture made for a tabloid phenomenon.
"I think, of course, you try your best," the Go star said. "I try very hard because I am very grateful for my upbringing and my parents and siblings.
"I try to do what they did for me for my little one."
She said that "the most important thing" for her, in terms of parenting, is emphasizing to Suri how proud she is of her, and how her "accomplishments mean everything."
"Whatever I do is 'Whatever' … it's really just about her and that's what I think is most important."
Asked if she feels there are any misconceptions about her from the public, the reclusive star pointed to the surface images society gets, judging her by images taken by the paparazzi.
"We're living in an age where there's a lot of pictures out there," she said, "and people can kind of form their own opinions from the pictures."
The Giver hits theaters Aug. 15.
Watch the video on RadarOnline.com:
Visit NBCNews.com for breaking news, world news, and news about the economy