Exclusive
How'd She Do It?! Katie Holmes' Bikini Diet Plan REVEALED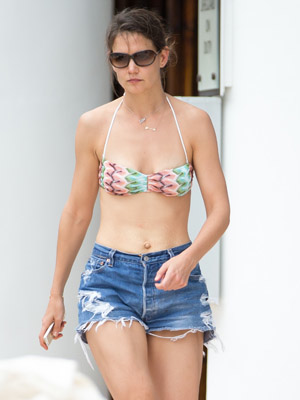 Katie Holmes is currently bundling up with the rest of frigid New York City, but just because she's keeping her body under wraps for now doesn't mean she isn't working hard every day to keep it beach-ready. In fact, when Holmes bared her winter bikini body a few weeks ago in Miami, the results were jaw-dropping. Only RadarOnline.com has all the details about how the 35-year-old single mom has managed to sculpt her hottest body ever in the middle of winter.
Article continues below advertisement
"Katie is feeling great lately because of her intense workouts," a source reveals.
Even though the streets of Manhattan are covered with ice and snow, the former marathoner has "been running a lot on the treadmill," the source confirms. To keep things fresh, she'll occasionally pop into a SoulCycle spinning class or text a friend for a workout. The source says, "She has a few regular workout buddies, and they'll go to the gym together when the kids are at school."
But since mommy-daughter time with Suri or business meetings can sometimes take precedence over gym time, the source says Holmes is sticking to a strict diet all winter.
"Katie is doing a mainly paleo diet," the source explains. Also known as the "Caveman Diet," the plan features lots of "fish, other lean proteins, and vegetables," says the source. "Katie says she always craves comfort food and carbs in the winter, but she's trying to stick to it."
That doesn't mean there isn't room for a few sweet indulgences, however. "She keeps an eye on her overall calorie count too, so if she's been doing well all day she'll treat herself to dessert," the source explains.
Clearly, it's working for her!